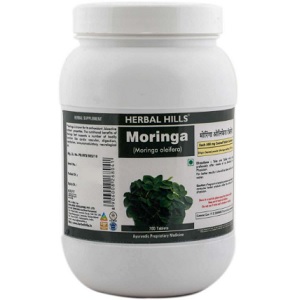 Herbal Hills Moringa - Does It Work?-Review
What is Herbal Hills Moringa?
This review will examine a dietary supplement called Herbal Hills Moringa. It claims to support a number of body functions and organs, such as improving digestion, detoxifying liver and kidneys; improve bone and joint health; boost energy and regulate normal blood pressure levels. The manufacturer claims that this supplement contains antioxidants and anti-inflammatory properties, and other vitamins and minerals that benefit your body.
Ingredients & How It Works
This product contains 500 mg of Moringa Oleifera.
Moringa is popular for its antioxidant and anti-inflammatory properties. The nutritional benefits of moringa support a number of body functions and organs, such as the digestion, cardiovascular function, neurological function and others.
Daily Serving
The suggested dosage is one tablet taken twice a day, or as advised by a healthcare practitioner. For maximum results, it is recommended that you take it with warm water. It is not stipulated what times of the day you should have the tablet, such as morning and afternoon or morning and evening.
The Cost
The product can be purchased through Herbal Hills Prime website for $2.77 for 60 capsules. This is by far the cheapest Moringa product that we have reviewed. This is exciting for people who cannot afford more than this. However, the price is way too low when compared to others, which makes us doubt its quality.  Low price is normally associated with low quality.
Guarantee
There is no information on a money-back guarantee provided on the manufacturer's website. We believe that they would make it available to their customers if they had the guarantee. Is it quite disappointing that they do not have it. This indicates that they do not have faith in their product and that the consumers' satisfaction is not their priority.
Our Review Summary Of Herbal Hills Moringa
Herbal Hills Moringa tablets can help improve your health, by detoxifying your body, supporting digestive and cardiovascular health, and boosting your energy. It is purely made from Moringa and is free from all artificial ingredients, additives, and preservatives. It is affordable, as the price is lower than of similar products on the market. However, it is possible that its price is associated with the level of quality of the product.
We noticed that there are no consumer reviews about the product, which makes it challenging for a prospective consumer. Reviews help prospective consumers to make an informed decision before they can purchase the product. Furthermore, there is no money-back guarantee on this product. This means that you will be taking a risk if you buy it because there is a possibility that it will not work, and you will not be able to get a refund on it.
Due to these reasons, we recommend that you look for a product that is backed by the manufacturer's guarantee, and one that has consumer reviews so that you know what you are getting yourself into beforehand. Herbal Hills Moringa does not seem to have all the qualities that a good product should have.
Well researched reviews, from the experts at Research & You.