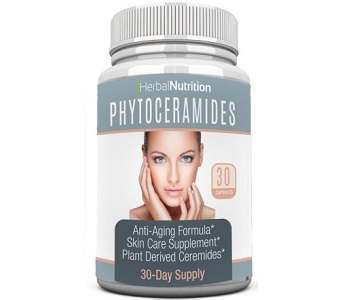 Herbal Nutrition Phytoceramides - Does It Work?-Review
What is Herbal Nutrition Phytoceramides?
This review is going to take a closer look at Herbal Nutrition Phytoceramides to learn more about how it works and to determine if it's worthwhile. Herbal Nutrition Phytoceramides is a dietary supplement that consists of Phytoceramides and several vitamins that are designed to help improve the condition of your skin. The manufacturer claims that using their supplement will help remove lines and wrinkles, will hydrate your skin, reduce aging spots, remove bags under your eyes, firm your facial skin and help you protect against UV rays and pollutants. Phytoceramides are ceramides that are derived from plants. They are a lipid in your skin that keeps your skin hydrated and young-looking. As you age your skin loses these ceramides which causes wrinkles and fine lines to appear. This supplement contains Phytoceramides to replenish your skin's supply and is designed to be taken orally so that the Phytoceramides can penetrate every layer of your skin.
Ingredients & How It Works
Vitamin A (as retinyl acid) - 5000 IU

Vitamin C (as ascorbic acid) - 60 mg

Vitamin D  (as ergocalciferol) - 40 mg

Vitamin E (as di-alpha-tocopheryl acetate) - 30 mg

Phytoceramides - 40 mg
Other Ingredients: Rice flour, Vegetable Cellulose (capsules)
Vitamin A can influence the physiology of your skin by promoting epidermal differentiation, modulating dermal growth factors, inhibiting sebaceous gland activity and suppressing androgen formation. It is commonly taken to treat acne and psoriasis. Vitamin C regulates the structural protein collagen. A deficiency in Vitamin C can cause your skin to become rough. Vitamin D destroys free radicals that can cause premature aging. Vitamin E blocks free radicals that cause aging.
Daily Serving
The manufacturer recommends taking one veggie capsule daily. You should not exceed the recommended dose.
If you are pregnant, nursing, under the age of 18 or have a known medical condition, you should talk to your doctor before taking this supplement.
The Cost
You can purchase this supplement directly from the manufacturer or from third-party retailers. The manufacturer offers several bulk purchasing packages as follows: You can purchase two bottles for $26.95, three bottles for $36.95 or 4 bottles for $46.95.
Guarantee
The manufacturer offers a 60-day money-back guarantee on opened and unopened bottles. In order to obtain a refund, you have to email their customer support with a reason for your return. It must then be authorized and you will then receive a return authorization number.
Our Review Summary Of Herbal Nutrition Phytoceramides
This product appears to be a promising tool that can help you achieve and sustain younger-looking, rejuvenated skin. It comes in easy to take capsules and is backed by a manufacturer's guarantee. However, their process of receiving a refund is complicated and requires you take several steps. The manufacturer claims that their supplement is a facelift in a bottle but it seems that many consumers do not agree with that statement. A lot of the consumer reviews we saw for this product are negative. Consumers reported that after continuously taking this product, they did not see any improvement to the condition of their skin.
Well researched reviews, from the experts at Research & You.