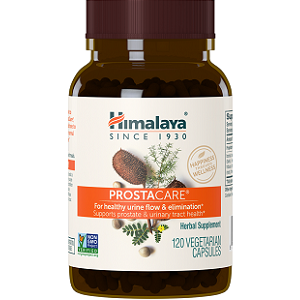 Himalaya ProstaCare - Does It Work?-Review
What is Himalaya ProstaCare?
This Himalaya ProstaCare review will examine the manufacturer's claims of their product promoting natural urine flow, eliminating urine retention and supporting prostate-specific effectiveness. We shall evaluate the likelihood of these claims being fulfilled by assessing the product ingredients. We shall also have a look at the manufacturer's customer support to give you an idea of the expected service.
Ingredients & How It Works
Tribulus
Bonduc
Betelnut Palm
Shatavari
Three-leaf Caper
Himalaya claims to use all-natural, vegan, and GMP certified ingredients. Tribulus fruit is known to assist with erectile dysfunction, promote circulation and testosterone production, as well as relieve urinary tract infections. Three-leaf caper is also known to help relieve urinary disorders such as UTIs, symptoms of urine retention and inflammation. Bonduc supports the relief of inflammation and acts as an aphrodisiac. Betelnut palm and Shatavari are antioxidants but do not have any direct link to prostate health and effectiveness. There is no indication of the concentration of these active ingredients, which prevents us from having any certainty of their efficacy. The product formula is also missing key ingredients such as Saw Palmetto and Beta Sitosterol which have been known to support prostate health and relieve symptoms of BPH.
Daily Serving
The manufacturer suggests that adults take 2 capsules twice daily with meals. As there are no available concentration values of the active ingredients, it is uncertain if these dosages are correct. It is worth noting that one of the key active ingredients, Tribulus, is known to have associated side effects with overdosing such as anxiety and agitation, gastrointestinal upset, and difficulty sleeping. The manufacturer recommends customers informing their physicians before taking this supplement.  
The Cost
Customers can purchase a bottle of Himalaya ProstaCare from the manufacturer's website for $27,95. This would get you 60 capsules; a one month's supply. There is a package offer available, for a 2 month's supply of Himalaya ProstaCare for $48,95 - saving you $6,95. There seem to be no other discounts available.
Guarantee
There seems to be no available information on the Himalaya website regarding their product guarantee or returns policy. This is concerning as it does not provide the customer or us with any confidence in the performance of the product. There have also been a variety of customer reviews that have reported the product as being ineffective in relieving symptoms related to prostate health and BPH.
Our Review Summary Of Himalaya ProstaCare
Himalaya ProstaCare is an all-natural and vegan product that may relieve urinary issues such as retention and interrupted flow. However, there is no indication of the concentration of these key active ingredients, thus we cannot say that it would be effective for sure. The product is also missing key ingredients that have been known to assist with prostate health and effectiveness, and instead opted for ingredients that have no direct relation to prostate health. Customer reviews correlate with this concern - reporting on the product as being ineffective. Although the price may be affordable; there is no guarantee or return policy available on the manufacturer's website which is concerning. We do not recommend this product as a viable prostate support supplement.
Well researched reviews, from the experts at Research & You.