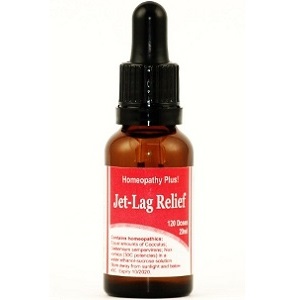 Homeopathy Plus Jet-Lag Complex - Does It Work?-Review
What Is Homeopathy Plus Jet-Lag Complex?
Read this review for a product called Jet-Lag Complex, which is a product from Homeopathy Plus. According to the manufacturer, this product is an appropriate solution for individuals who suffer from jet lag. When you travel across multiple time zones, it can be very difficult for your body to adjust to a new sleep cycle. This product contains a wide variety of natural ingredients that will help to restore your sleep cycles. Additionally, the manufacturer claims that this product does not contain any additives, preservatives, fillers or binders.
Ingredients & How It Works
Cocculus
Gelsemium sempervirens
Nux vomica (30C potencies)
Water-ethanol-sucrose solution.
At first, when we examined the ingredients included in this formula we found that it could be an effective option for individuals who want to restore their sleep cycles after traveling across multiple time zones. However, we were concerned that wide varieties of crucial ingredients have not been including in this formula. We find it very difficult to believe that a product that does not contain Chamomile, Ashwagandha, L-theanine, Magnesium, Calcium, and GABA can truly be effective.
Daily Serving
The manufacturers of this product recommend that you take this supplement once an hour until you notice the symptoms of your jetlag starting to dissipate. After that, you can take a dose as needed without exceeding the maximum of six doses in a day. One dose is equal to five drops taken in the mouth. However, we were slightly concerned about the safety of the ingredients included in this dietary supplement. Although most experts agree that homeopathic remedies are safe for everybody to use there is still a small risk of adverse reactions in certain people.
The Cost
You can buy this dietary supplement directly from the manufacturer on their online store. One bottle costs $28.50. Sadly, there are no discounts or special offers available for this product. We also struggled to find information related to shipping costs so you should probably expect to pay more for that.
Guarantee
Unfortunately, the manufacturers of this product do not offer any guarantees or return policies for this product. We were rather concerned to discover this as guarantee always reassures us that the manufacturer is confident in their product. A guarantee indicates that the company believes they are producing the best possible product.
Our Review Summary of Jet-Lag Complex
After we completed our review for this product, we found that this product could be an effective solution for individuals who struggle to sleep when they travel. This product is formulated from a variety of excellent homeopathic remedies. Additionally, this dietary supplement does not contain any additives, preservatives, fillers, or binders. However, we are not sure if we would recommend this product to anyone. There is no conclusive data available regarding the safety of homeopathic remedies. Additionally, we believe that this product is rather expensive when compared to other similar products. Finally, we were thoroughly disappointed to discover that there are no customer reviews available for this product. A review always reassures us that a product really works.
Well researched reviews, from the experts at Research & You.