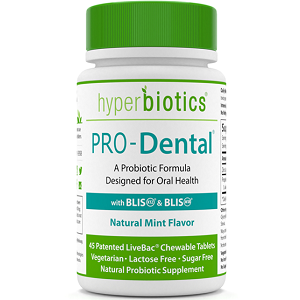 Hyperbiotics PRO-Dental - Does It Work?-Review
What is Hyperbiotics PRO-Dental?
This Hyperbiotics PRO-Dental review examines the details of the dietary supplement. This product is designed to help improve oral health, freshen the breath, and promote healthy teeth and gums. Keep on reading to see what Hyperbiotics PRO-Dental can offer you and if it is an effective supplement to try.
Ingredients & How It Works
Zinc
Proprietary Probiotic Blend
This supplement claims to provide targeted oral probiotic stains to help increase the good bacteria. The zinc in the product supports the formulation of connective tissue, teeth, and bones. The formula is safe for vegetarians and does not contain artificial color or preservatives.
However, based on our research, this product does not seem to contain the necessary ingredients that are clinically proven to be effective. First of all, it lacks the presence of a multi-action formula that helps to fight against, balance and prevent certain bacteria in the body. Furthermore, the product does not contain Lactobacillus Acidophilus, an effective probiotic or Chlorophyllin and Peppermint Oil which provide therapeutic benefits. With the absence of these ingredients, the product may not be as effective as other brands.
Daily Serving
The manufacturer recommends that the user chew or dissolve one Hyperbiotics PRO-Dental tablet once or twice a day. The product must be chewed or dissolved in the mouth and not swallowed to support the health of your oral microbiome, ideally after you have completed the rest of your oral hygiene regimen. For a more intense support, chew or dissolve 2 to 3 tablets twice a day.
The Cost
The supplement can be purchased online from the manufacturer's website. A bottle of 45 tablets will cost $23.00. The original price was $28.00. A bottle of 90 tablets will cost a total of $43.00, after $12.00 discount. This is a low price and may indicate low-quality ingredients.
Guarantee
The manufacturer does not seem to provide a money-back guarantee. As a result, customers will not be able to return products for a full refund if they fail to provide positive results. This could be an indication of a manufacturer that does not believe in the effectiveness of the product.
Our Review Summary Of Hyperbiotics PRO-Dental
In concluding our review, we have found a few positive aspects of the dietary supplement Hyperbiotics PRO-Dental. The manufacturer provides the user with easy to chew tablets and also clear instructions on when and how to take them.
However, we have also come across a few negative aspects that need to be addressed. First of all, the product does not contain ingredients that have been clinically proven to be effective. The lack of these crucial ingredients may cause the product to be less effective when comparing it with other supplements in this category. Furthermore, the product is priced low and may support the fact that it does not contain ingredients that are found to be effective. Finally, the manufacturer does not seem to provide a solid guarantee and the customer will be at risk. Due to these unfortunate aspects, Hyperbiotics PRO-Dental does not seem to be a very effective and safe option.
Well researched reviews, from the experts at Research & You.