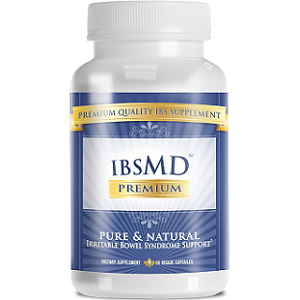 IBS MD - Does It Work?-Review
What is IBS MD?
The following is our review of IBS MD. This product contains 21 key ingredients and natural digestive enzymes to help relieve pain, bloating, strengthen your digestive system, nourish your colon, and help promote regularity. This product also has just the right dosage for the most effective results. Continue reading for our full review and to learn more how you can treat irritable bowel syndrome.
Ingredients & How It Works
Vitamin D – 20 mg
Digestive Natural Enzymes
Psyllium – 600 mg
Perilla – 150 mg
Peppermint – 80 mg
Aloe Vera – 75 mg
Fennel – 20 mg
Ginger – 20 mg
Turmeric – 20 mg
Cumin – 10 mg
Long Pepper – 10 mg
BioPerine (Piperine) – 10 mg
This product contains ingredients that have been shown to be an effective ingredient to treat the symptoms of IBS. Psyllium Husk specifically has been commonly used to relieve constipation, IBS, and diarrhea. The ingredients are also meant to provide support for the digestive system and process by treating bloating and stimulating motion. The bioperine in this product is added to help the absorption and bioavailability. This product is vegan and does not contain any additives, such as fillers and binders.
Daily Serving
It is recommended for adults to take 1 capsule in the morning and 1 in the afternoon with meals. The label doesn't specify that you should take it with meals but we were able to find that information on their FAQs page. You should speak with your doctor before using this product if you are under age 18, pregnant, nursing, taking any other medication, or have an existing health conditions.
The Cost
A 1 month supply of IBS MD costs $48. This may seem a bit on the expensive side but the manufactur offers discounts if you buy this product in larger quantities. You can buy a 3 month supply for $30 each, a 4 month supply for $28 each, and a 6 month supply for $23 each, which is a huge deal. This product is very affordable if you buy it in bulk, which you will eventually need anyway for lasting results.
Guarantee
The manufacturer offers a 90-day money-back guarantee. You will only qualify for a refund if the product is unused and unopened. To request a refund you must first get a return authorization. Requests are made online. If you return your order without a return authorization number, you will not be able to be refunded. The product must be physically in their possession within 90 days of purchase to qualify for a full refund minus shipping and handling.
Our Review Summary of IBS MD
IBS MD has many positive qualities about it. The supplement contain 100% pure natural ingredients. It is manufactured in a FDA registered lab and is GMP certified. The manufacturer provides a fair return policy, only allowing you to qualify for a refund on unused and unopened products. This product is also very affordable if you buy it in bulk, which you may want to do to see the best results. We feel that this product is highly effective and would recommend it.
Well researched reviews, from the experts at Research & You.