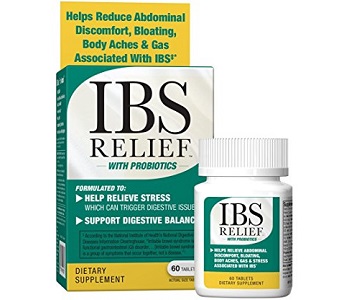 IBS Relief From Accord - Does It Work?-Review
What is IBS Relief From Accord?
This is an over the counter product which claims to aid with digestive health by helping to relieve symptoms associated with IBS such as bloating, gas, intestinal discomfort and body aches. This product also contains probiotics which help to restore your natural flora within the gut.
In this review of IBS Relief From Accord, we look at the facts to see if this product is an effective solution for managing IBS and other digestive conditions.
Ingredients & How It Works
Vitamin C - 1000 mg
Vitamin D - 20 mcg
Thiamin - 15 mg
Riboflavin - 15 mg
Niacin - 50 mg
Vitamin B6 - 10 mg
Folate - 667 mcg
Vitamin B12 - 10 mcg
Biotin - 150 mcg
Pantothenic Acid - 23 mg
Calcium - 100 mg
Magnesium - 100 mg
Zinc - 10 mg
Proprietary Blend - 151 mg
Bacillus coagulans
Valerian Powder
Hops Powder
Chamomile Powder
Melatonin
This product contains a variety of ingredients which help to reduce harmful bacteria in the gut with beneficial bacteria such as Bacillus. Studies have also linked vitamin D deficiency with IBS. While most of these ingredients seem to be beneficial, Melatonin may affect your sleep cycles and Niacin may cause a flushing or hot prickly feeling in the face otherwise known as the niacin flush. We were disappointed to see that this formula does not contain any supporting ingredients such as ginger or peppermint which helps to alleviate pain and nausea. Another concern we found is that the supplement list on the manufacturer's site differs from that which is sold via third-party stockists.
Daily Serving
Accord recommends taking 3 capsules a day with water before bedtime. According to many customers who have recently purchased the product, this dosage has changed from 3 tablets to 1 and the tablets are now in capsule form.
The Cost
This product is only available for purchase via third-party stockists.  The price ranges from $21.00 to $28.00 for 30 capsules. The product reflected on the manufacturer's website claims to contain 60 tablets. We were unable to find any discounts or bulk purchase options for this product.
Guarantee
The manufacturer offers consumers 30 days in which to return the product if they are unsatisfied. This applies to products that have already been used provided that you ship the empty container back to the manufacturer's address.
Our Review Summary Of IBS Relief From Accord
We appreciate that this formula has natural ingredients that may be beneficial to those who are suffering from IBS however, considering that the manufacturer has drastically changed their formula and failed to list the updated ingredients on the official website, we feel that this product is ineffective. Based on the fact that the information has not been updated, we also feel that consumers are misled and are kept in the dark about the actual product they are purchasing. A variety of negative feedback has mentioned that they received the "new" product without warning as they were expecting the regular product which they have been previously using to arrive. A brand that changes a formula drastically leaves us with little confidence in their past or present formula and we feel that consumers run the risk of losing hard earned money if they find that this product does not work for them within the 30 days.
Well researched reviews, from the experts at Research & You.