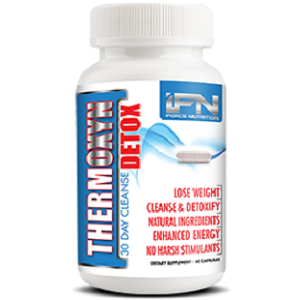 IForce Nutrition Thermoxyn Detox - Does It Work?-Review
What is IForce Nutrition Thermoxyn Detox
The manufacturer of  IForce Nutrition Thermoxyn Detox has formulated a product that might assist to detoxify the body by using key natural blends known to absorb and remove toxins, release stored waste, and support healthy digestive and immune systems.
Ingredients & How it Works
Cascara Sagrada
Rhubarb
Cape Aloe
Senna
Prune Juice
Oat Bran
Aloe Vera
Fennel Seed
Goldenseal
Pumpkin Seed
Licorice Root
Acidophilus
Thermoxyn Detox
Ginger
Cayenne Pepper
A̤cai
Flax Seeds
For cleaning and cleansing the colon, Cascara Sagrada, Rhubarb, Cape Aloe, Senna and Prune Juice is used. For a Digestive aid and healthy immune system, Oat Bran, Aloe Vera, Fennel Seed, Goldenseal and Pumpkin Seed is used. To support the gastrointestinal and urinary tracts, and acts as a powerful antioxidant in the body, Licorice Root is used. To support liver detoxification, normal bacteria balance in the body and immune system health, Acidophilus is used. It is a probiotic involved in the production and absorption of nutrients.

Cleanses the blood and deep within the body's fat store, helps to promote the burning of stubborn body fat and provides enhanced energy, Thermoxyn Detox is used.
To increase blood flow and circulation, speed up digestion, and help excrete additional waste through sweat, Ginger is used. To support cardiovascular health, a healthy digestive function and fat loss Cayenne Pepper is used. To support the immune system function, healthy heart function, and promote weight management, A̤cai is used. To promote fat burning, athletic performance, and overall health, Flax Seeds is used.
As the above ingredients are part of a proprietary blend and the manufacturer is not exposing the amount used. The consumer is urged to take note of each ingredient as there might be a risk that the consumer may be sensitive or allergic to some ingredients.
Daily Serving
It is recommended to take one to two capsules as soon as the consumer wakes up with a large glass of water, thirty minutes before having a light healthy breakfast. An additional capsule may be taken before bedtime with 8 oz of water, the next morning a large glass of water must be taken, it is important to consume water throughout the day for best results.

The manufacturer states on the container that it is a 30-day cleanse, which is very dangerous as it has been proven clinically that a detoxification supplement should only be taken for 7 days.
The Cost
The price of one container is $29.99 may be bought online from the manufacturer's website, shipping costs are not included.
Guarantee
It raises quite a concern as we are unable to find any information about a money back guarantee.
Our Review Summary of IForce Nutrition Thermoxyn Detox
The manufacturer of IForce Nutrition Thermoxyn Detox offers this supplement at a reasonable price and it is easily obtainable. The disadvantages of this supplement are that it has been formulated in a proprietary blend, which could have serious implications as the amount of the ingredients are not specified. A detoxification supplement should not be taken for longer than 7 days, as it has been clinically proven if taken for longer periods it may cause serious health problems. The manufacturer does not offer any guarantee, which disables the consumer from any right to return a product which they might find ineffective.
Well researched reviews, from the experts at Research & You.