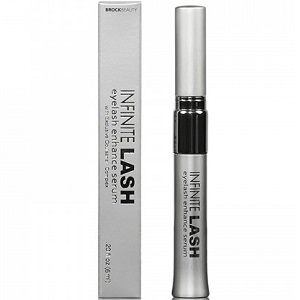 Infinite Lash Eyelash Enhance Serum - Does It Work?-Review
What is Infinite Lash Eyelash Enhance Serum?
Eyelash serums are basically moisturizers for your lashes and eye area, designed to make your eye lashes less brittle, and so enable them to grow and regenerate while withstanding the damage caused by make up, including mascara, and the environment in general. This is our review of Infinite Lash Eyelash Enhance Serum.
Ingredients & How It Works
Camelia Sinensis Leaf Extract (White Tea)
Rosa Centifolia Flower Water (Rose),
Myristoyl Pentapeptide-17 and Myristoyl Pentapeptide-16
Hyaluronic Acid
Hydrolyzed wheat protein
Infinite Lash Eyelash Enhance Serum contains a long list of ingredients, many of which are used in cosmetic products to moisturize and soften. According to Infinite, the serum utilises its "exclusive Oculsana Complex" (but there are no details about what the contents of this complex are; as well as a "super antioxidant cocktail of vitamins and botanicals". In the list of ingredients provided, we were unable to identify any vitamins apart from Vitamin C (ascorbic acid). Apart from the moisturizing ingredients, the incorporation of Myristoyl Pentapeptide-17 indicates that the serum will also help to encourage eyelash growth. In addition, several of the ingredients are known antioxidants which help to eliminate free radicals and thus provide protection for the lashes and delicate skin around the eyes.
Instructions
Try as we might, we were unable to find any instructions about how to use Infinite Lash Eyelash Enhance Serum. This means we do not know how to apply it – based on instructions from competitive products that come in similar type and applicator-type packaging, common sense tells us to use the brush applicator to spread a line of the serum on the eyelid as close as possible to the eyelash root. However, how often this should be done, whether make up can be applied after application, and for how long you should continue with the treatment, remains a mystery.
The Cost
One tube of Infinite Lash Eyelash Enhance Serum – said to be enough for a three-month supply – will cost around $68 when purchased directly from the manufacturer. For a six-month supply (two tubes), you can expect to pay approximately $135.
Guarantee
You may return Infinite Lash Eyelash Enhance Serum within 14 days of receiving your purchase if you are not satisfied with it. However, you must contact a Customer Support Relationship Manager about your proposed return, and also send a written statement with the product you are returning.
You also need to be aware that once you have hit the "submit order" button on the website, you cannot change or cancel your order. If you have changed your mind, you will have to wait until your receive the product, and then go through the whole return procedure – and you will have to pay all shipping costs.
Our Review Summary of Infinite Lash Eyelash Enhance Serum
The long list of natural ingredients in Infinite Lash Eyelash Enhance Serum indicates that this eyelash serum is unlikely to result in adverse effects or irritation, although all people are different and some may have a bad reaction to even the most gentle cosmetic formulation.
While Infinite Lash Eyelash Enhance Serum is relatively moderately priced with one tube said to last three months, the lack of instructions of how to use the product – how many times a day and how it should be applied – could mean that you the product is not used optimally.
There is also no indication provided about how long it should take before you start seeing positive results.
Well researched reviews, from the experts at Research & You.