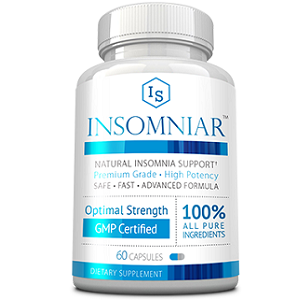 Insomniar - Does It Work?-Review
What is Insomniar?
There is no lack of potential solutions out there if you suffer from insomnia. Search that word on Amazon and you'll find everything from sleep masks to acupressure bracelets to homeopathic remedies and aromatherapy oils. Insomniar is one of the dozens of nutritional supplements that, looks to address the issue from the inside. According to the manufacturer, Insomniar helps relieve anxiety and reduce stress while normalizing your sleep/wake cycle and, when you are asleep, to produce a deeper and more restful sleep. The formula was put together by medical doctors and is also said to address nutritional deficiencies with its vitamin and mineral content while making you feel brighter through boosting your serotonin levels.
Read our full review of Insomniar below to get a handle on all the details and make an informed decision about whether it's the right approach for you.
Ingredients & How It Works
L-ornithine
Passionflower
Hops
Taurine
Jujube extract
Melatonin
The components most people will recognize include Chamomile and Melatonin. Chamomile helps relax the body (in preparation for sleep) while Melatonin is a hormone that occurs naturally in the body (though not always in the right amounts) that helps regulate the daily sleep/wake cycle. Passion Flower, Hops, Taurine and Magnolia Bark are each included for their abilities to reduce anxiety, again smoothing the way for a better night's sleep. Lemon Balm and Jujube Extract both have a sedative effect to help bring on sleep.
Daily Serving 
The recommended dosage is between two and four capsules an hour before you go to sleep. We would suggest that you start at the low end of the dosage range and see if it works for you, only going to three or four capsules per day if necessary.
The Cost 
Insomniar is sold directly by the manufacturer via the product website and you have your choice of several purchase options. You can buy a single bottle for $49.95 while a two-bottle purchase brings the unit cost down to $34.95. Four bottles bring the per-bottle price down to $27.95 while a six-pack costs $23.30 each.
Each bottle comes with 60 capsules which, at the minimum dosage, would last a month.
Guarantee
In the "Wild West" nutritional supplement marketplace, a strong money-back guarantee is what we consider to be one of the cornerstones of a good product. Not only does a good return/refund policy allow you to test the product out without risking your cash (if it doesn't work for you) but it also tells you something about the company, how it approaches and deals with its customers and how confident it is in its product. Insomniar gets top marks here with its 60-day money back guarantee. The two-month trial seems fair to us and the company accepts both opened and unopened product for refund.
Our Review Summary of Insomniar
Insomniar looks like a solid product backed by a solid manufacturer. Its formula shows an understanding of the individual components and what each contributes to the goal of eliminating insomnia. And the money-back guarantee, especially the fact that it includes opened bottles, means you can try one of the multi-bottle purchases right off the bat to save per bottle, knowing you can return everything if it doesn't help you sleep. We have no qualms recommending trying Insomniar.
Well researched reviews, from the experts at Research & You.