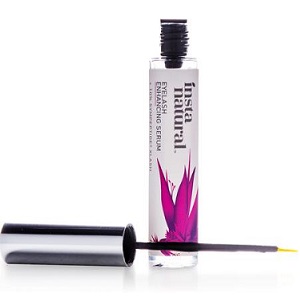 Insta Natural Eyelash Enhancing Serum - Does It Work?-Review
What is Insta Natural Eyelash Enhancing Serum?
Insta Natural Eyelash Enhancing Serum has been formulated to do exactly what its name says: enhance eyelashes, giving them a more luxurious appearance by visibly lengthening and thickening them.
It can also be used on the eyebrows to make them appear thicker and fuller.
Manufactured in the United States, the serum utilizes mainly natural, or naturally-sourced ingredients which, according to Insta Natural, have been clinical proven to work within 30 days when applied twice a day.
Ingredients & How It Works
Insta Natural Eyelash Enhancing Serum contains a host of ingredients – most natural or sourced naturally where possible – most of which appear to be included to moisturize the lashes, giving them more flexibility and less breakability. However, both the active ingredients we identified, have been shown to either combat hair loss (Capixyl) or promote hair growth for thicker, longer lashes (SymPeptide XLash). SymPeptide XLash itself is a standardized solution of a peptide (Myristoyl Pentapeptide-17) in glycerin and water that has been shown deliver a 25% increase in lash thickness and length in 14 days; and 66% increase in 28 days. Capixyl is a blend of Acetyl Tetrapepide-3, a biomimetic peptide which, when is combined with red clover extract to target the main causes of hair loss.
Instructions
Insta Natural Eyelash Enhancing Serum is pretty easy to use. You just have to apply it, twice daily, to the base of your lashes, which much be cleansed first. You should then dab away excess serum, and allow it to dry before applying makeup. As a bonus, you could also use it on your eyebrows.
The Cost
At the time of writing this review, the price of a 10.6ml container of Insta Natural Eyelash Enhancing Serum had been reduced from $30 to $24.97 for purchases directly from the manufacturer's website. In you increase the value of your purchase to over $35, shipping will be free as well.
Guarantee
Insta Natural Eyelash Enhancing Serum comes with a generous 120-day, 100%, no-questions-asked money back guarantee. If you are not satisfied with your purchase, you just have to contact Insta Natural and let them know. No need to return anything.
Our Review Summary of Insta Natural Eyelash Enhancing Serum
Compared to many other eyelash serums currently available, Insta Natural Eyelash Enhancing Serum ranks appears to be considerably more cost effective. It is far less expensive than some of its competitors. However, it has to be used twice daily and there will be wastage (the usage instructions indicate that excess has to be dabbed off the eyelashes), this may prove to be false economy. We were unable to obtain an indication of how long a 10ml container should last if used correctly.
It should last at least one month, as the product is only expected to start to show results in 30 days.
Insta Natural points to the fact the ingredients in its Natural Eyelash Enhancing Serum have been clinically proven to work, but there did not appear to be any links to this research provided on the website; and a quick internet search for such research was also unsuccessful.
Well researched reviews, from the experts at Research & You.