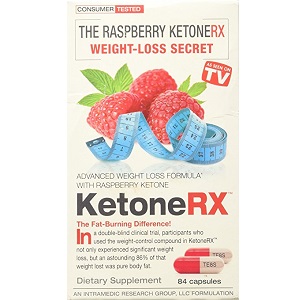 Intramedics The Raspberry Ketone Rx - Does It Work?-Review
What is Intramedics The Raspberry Ketone RX?
This review is going to take a closer look at Intramedics The Raspberry Ketone RX. This product is a Raspberry Ketone supplement that is composed of a proprietary blend of ingredients that is designed to help you lose weight. The manufacturer claims that their unique blend of extract works synergistically to help support healthy weight loss and encourages an all-encompassing approach to weight loss.
Ingredients & How It Works
Proprietary Ketone Blend:
Blood Orange Extract

Grapefruit Extract

Sweet Orange Extract

Methylxanthine (from caffeine)

Guarana Extract

Raspberry Ketone

Red raspberry Powder
Other Ingredients: Gelatin, Rice Flour, Microcrystalline Cellulose, Stearic Acid, Magnesium Stearate, Silicon Dioxide, Titanium Dioxide, Red#4, Blue #1.
Every serving contains 837 mg. The ingredient list is unique to other Raspberry Ketone supplements because generally Raspberry Ketone supplements contain a high serving of Raspberry Ketones but this does not. It leads us to suspect whether or not this is proprietary blend is strong enough to offer real results.
Daily Serving
The manufacturer recommends taking two capsules twice daily before meals with a full glass of water. You should not exceed six capsules in any 24-hour period.
This supplement is not meant for women who are pregnant or nursing or children under the age of eighteen.
The Cost
This supplement is out of stock on all of the third-party retailer websites we saw and there is no indication as to when it will be available again. This suggests to us that this product was not a popular option or worthwhile for the retailers to keep in stock. We were able to find that when in stock it costs $8.52.
Guarantee
We were unable to find a manufacturer's guarantee.
Our Review Summary Of Intramedics The Raspberry Ketone RX
This product appears to be a decent Raspberry Ketone supplement. It comes in easy to take capsules and is composed of a proprietary blend that incorporates several ingredients that may be able to help you lose weight. However, many of the ingredients are not commonly used weight loss ingredients which leads us to question the effectivity of this supplement. Furthermore, the information available on this product is obscure and limited. We were not able to find it in stock on any third-party retailer websites that we researched and many had entirely discontinued the product. This suggests to us that it is not a well known or popular Raspberry Ketone supplement. Every person can react differently to a supplement but the majority of the consumer feedback we saw is negative. Majority of consumers claimed that this product does not work and some reported that it caused them to experience adverse side effects. Taking these factors into consideration, you are better off choosing a Raspberry Ketone supplement with ingredients that have been proven to work, one that has positive consumer review and is current on retailer's websites.
Well researched reviews, from the experts at Research & You.