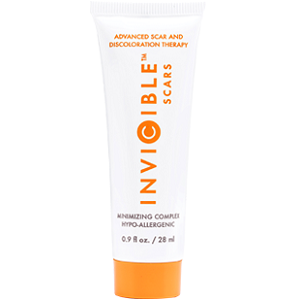 InviCible Scars - Does It Work?-Review
What Is InviCible Scars?
Scarring and skin discoloration caused by injury, age and even excessive exposure to the sun is something that affects thousands if not millions of people right across the globe. As such there have been hundreds of skin lightening products brought to market, all claiming that they can reduce the appearance of scars and dark marks on the skin. The following is a review for InviCible Scars, a cream for scars and hyperpigmentation. This product also makes claims of being an anti-aging makeup primer - that is suitable for all skin tones and skin care routines.
Ingredients & How It Works
Dual Complex Vitamin C
Dimethicone Silicone Gel
Probiosyn-4 Natural Treatment Complex:
Aloe Vera
Linoleic and Oleic Acids
Licorice (Stearyl Glycyrrhetinate)
All the ingredients included in this product was not available on the manufacturer's website. The Vitamin C is supposed to help regulate the production of collagen, hydrate the skin and lighten scarring. The Silicone gel is meant to keep in the skin's moisture, while the Probiosyn complex (consisting of aloe vera, licorice extract, and essential fatty acids (EFAs) linoleic and oleic acid) is said to improve the way scarring heals - by reducing inflammation.
Daily Serving
There are various recommended usage terms available on the manufacturer's website - depending on the type of scar or mark the product is being used for. When used for a skin injury the product should be applied twice daily, after sutures come out. For skin resurfacing the product should be applied when no more 'raw' patches can be seen. For dark spots the product should be applied twice daily, the same usage goes for acne scarring.
The Cost
This product is currently on offer, online, from Amazon and not the manufacturer's website. If you would like to purchase 0.9 fl.oz of this product the current cost is set at $27.54 (which is 5% less than its normal price). At present time you are unable to buy this product in bulk discounted packages.
Guarantee
As you have to purchase this product from Amazon, their returns policy would apply. This guarantee states that some (unspecified as to which types of products) unopened products may be returned within 30 days of delivery. This makes it impossible to try the scar cream before determining whether or not it works for you.
Our Review Summary Of InviCible Scars
In conclusion, we found some things we liked and some things we did not like in our review for InviCible Scars. We appreciated that this product had extensive information on its usage, dependent on the type of scar and mark that was being treated. We also liked that it included ingredients that could have some desired effect. However, the lack of information on its inactive ingredients, the fact that it was not for sale on the manufacturer's website and that customers may run a financial risk, with a limited returns policy - made us believe that there may be other similar skin products that are better. 
Well researched reviews, from the experts at Research & You.