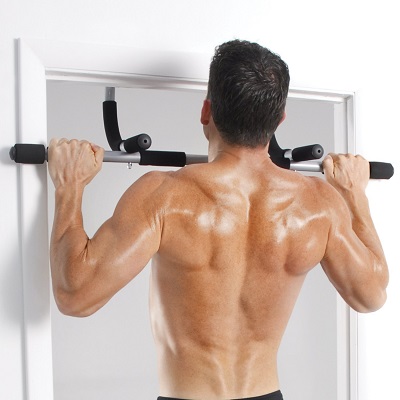 Iron-Gym-Review
There is a lot of workout equipment out there in the market, but they do not come close to the iron-gym. It has been around for the longest time and has been improved over and over again to suit the workout needs of many people. Finally, they have created a workout tool machine that works perfectly.  It has become increasingly popular and has numerous positive reviews from users.
About the iron-gym
At a glance, it is simple looking gym equipment, and for this reason most people tend to doubt just how effective it is. It comprises of a few bars that have been joined together giving it an underwhelming appearance. The other reason why people doubt it is because there are many other doorway workout bars in the market that are quite disappointing.  The assembling is quite simple as you just need to screw them in to your doorway frame. The problem with them is that they may fall off the door running a risk of home injury to the users. It is claimed that, it is possible for one to get an inexpensive gym-quality workout bar right at home. It has also been said that installing the iron-gym onto your door takes seconds, and it easily comes off as it is not screwed into the frame. It uses your body's leverage to stay in place. The iron-gym is positioned out of the doorway; this way, you are not worried about hitting the door sides as you do your pull ups. If you do not believe the "no- need- to- screw- it -in" claims, then you need to watch it being put-up and taken down to know that the iron-gym can live up to this claim. The benefit of being able to remove it and reposition is that, you are able to do other types of workouts like push-ups to build your chest; you can perform crunches for your abs as well as dips for your triceps. With these three, you are covered when it comes to your upper body workout. More and more people are going for the iron-gym as an after effect of watching the advertisements on the web. What they fail to understand is that, the models in the advertisements earn a living from keeping their body fit. It is impossible to get that kind of physique by only using the iron gym. One has to incorporate other forms of physical exercise to attain that body tone. There are other factors like diet restrictions, and in some cases the genes involved matter. There are other models who take water pills to get the look.
How the iron gym works
If the iron gym is to be evaluated by the way it is constructed, it will win an award. It will also win an award for having a misleading name. If you are asking yourself about how it really works, then you are asking two questions in one. The first question would be the safety guarantee that comes with it; one actually wonders how equipment would support the weight of the body hanging from it and yet it is not screwed into the doorframe. The other question would be whether it indeed produces the results spoken of in the promos. The answer to the first question is the fact that it is possible for the iron-gym to stay in place as you work out. That is guaranteed. The answer to the next question is, if you are an average person, you will not get ripped if you want to use the equipment. You will get stronger definitely but not ripped. You need to understand that the food you eat will affect whether you get ripped, not the exercise you do.  You need to balance the gym exercise with proper eating in order to get ripped. What you need to have when you start using the iron-gym is a level head. You can not expect a perfect body to come with the iron-gym, with this kind of mind frame then you are sure to gain a solid body eventually. Doing pull ups cannot get your body strong overall, but this does not mean you don't do them because you have to. The greatest problem when it comes to the iron-gym is the users want to use it on a door frame size that is not right, or the moulding does not support its use. Some people blame it o the equipment bars claiming that the bolts are not properly put in place while others claim that the screws they got were not right.
How much it costs
It will cost you $43 to get this equipment. This is very cheap judging from the general cost of workout equipment in the market.
The iron gym final review
When it comes to how the iron-gym functions, what you see on the ads is exactly what you get. It however, leaves a lot to be desired with regards to one getting ripped. The only way one will get a ripped body close to the ones in the promotion video is by doing a lot more exercise beyond the iron-gym regular pull-ups and push-ups. It is safe to say that the iron-gym is indeed very effective workout equipment. It has been safely constructed to protrude just slightly outside the doorframe for effective exercising. It is especially recommended if you live far from a gym. As hard as it is to replicate the gym room experience, the iron-gym can be helpful to exercise when you want to. The unit is designed in a clever way, and it holds you in place during exercise.
Well researched reviews, from the experts at Research & You.