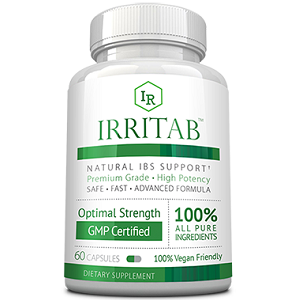 IRRITAB - Does It Work?-Review
What is IRRITAB?
The following is our review of IRRITAB. It is an IBS relief supplement that was produced in a cGMP certified and FDA licensed laboratory. This product gets to the root of the problem unlike other products on the market. Other similar products also don't live up to their claims and don't contain the right amount of dosage to provide the right amount of potency. This product gets to the root of the problem and manages the symptoms associated with IBS. Continue reading for our full review.
Ingredients & How It Works
Psyllium Husk
Perilla Leaf
Peppermint Oil
Aloe Vera
Ginger Root
Fennel
Turmeric
Long Pepper
Cumin
Black Pepper (Piperine)
Natural Digestive Enzymes
Vitamin D
The ingredients in this product help relieve constipation, bloating, diarrhea and other digestive problems. They also boost the metabolism and support the digestive system. The digestive enzymes found in this product help break down the food in a more effective way which will then help improve digestion. The bioperine helps with quicker absorption and bioavailability. This product is vegan and does not contain additives, preservatives, and artificial ingredients.
Daily Serving
It is recommended to take 2 capsules a day. You should take 1 capsule in the morning and 1 in the afternoon. They should be taken 30 minutes before meals and with an 8 ounce glass of water.
The Cost
You can buy 1 bottle of 60 capsules of IRRITAB for $49.95. It is usually sold for $59.95. There are discounts in you buy it in larger quantities. For 2 bottles, it costs $34.95 each, 4 bottles cost $27.95 each, and a pack of 6 bottles costs $23.30 each. If you buy it in bulk this product is very affordable and a great deal for how effective it is.
Guarantee
This product is backed by the manufacturer's risk-free 100% satisfaction guarantee. You have 60 days to return any opened and unopened bottles for a full refund not including shipping and handling. You will first need to contact customer support to get a return number. The return number then has to be placed on the inside or outside of your package with your name and address. After you've done all of that, you are ready to ship and qualified for a full refund.
Our Review Summary of IRRITAB
After reviewing IRRITAB, we can tell that it is a very effective product for support and relief of IBS. It contains pure and natural ingredients and was produced in a cGMP certified and FDA licensed laboratory. The product is also extremely affordable if you buy it in bulk. Only $23.30 for a bottle that will last you a month if you purchase a 6 month supply. This product also has an outstanding and strong guarantee that shows they have extreme confidence in their product's effectiveness and it also gives you, the customer, confidence in your purchase. We feel you have nothing to lose from trying this product and would definitely recommend it.
Well researched reviews, from the experts at Research & You.