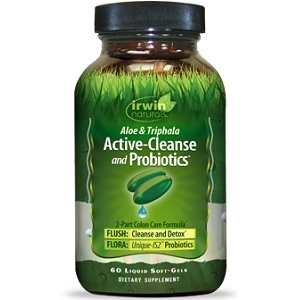 Irwin Naturals Active-Cleanse and Probiotics - Does it Work?-Review
What is Irwin Naturals Active-Cleanse and Probiotics?
This Irwin Naturals Active-Cleanse and Probiotics review examines all the features related to this product. This supplement has been formulated to assist by working through the digestive tract to promote toxin elimination and acts as a probiotic replenisher. It may be used as part of a detox program or as a stand-alone product for deep inner cleansing.
Ingredients & How it Works
Key Ingredients:
Aloe Extract
Triphala Powder
Extra Virgin Olive Oil
Chebulic Myrobalan Extract
Bacillus Coagulans (Unique IS-2)
Coriander Extract
Cumin
Fennel
BioPerine Complex (Black Pepper extract and Ginger Extract)
Aloe Extract may help treat constipation. Triphala Powder may help with stomach ailments.
Extra Virgin Olive Oil has antibacterial properties, which is effective against stomach ulcers and stomach cancer. Chebulic Myrobalan Extract effectively against digestive disorders. Bacillus Coagulans (Unique IS-2) a clinically-tested probiotic. Coriander Extract effective against diarrhea and stomach pain. Cumin promotes digestion. Fennel helps to prevent constipation and promotes regularity for a healthy digestive tract. BioPerine Complex (Black Pepper extract and Ginger Extract), aids with increased absorption and added nutritional benefits.

Other Ingredients:
Gelatin
Purified Water
Beeswax
Glycerin
Soy
Lecithin
Silicon Dioxide
Titanium Dioxide
Sodium Copper Chlorophyllin
Turmeric
Gelatin, Purified Water, Glycerin, Soy, Lecithin, Silicon Dioxide and Titanium Dioxide are Ingredients to formulate the shell of the capsule. Beeswax is used as a thickener, emulsifier, and a stiffening agent. Sodium Copper Chlorophyllin used for constipation and gas. Turmeric is used to make medicine and is used as a colorant.

It has been proven in clinical studies that there should be no other additives present in the formula, to provide toxin elimination and weight management.

This product contains Lead, (is naturally found in the environment and in the soil and water so vegetables and crops may have traces naturally, should not contain more than 0.5 micrograms of lead per daily recommended dose) known to cause birth defects or other reproductive harm.
Daily Serving
It is recommended to take 3 capsules in the morning prior to breakfast, and 3 capsules in the evening prior to bedtime. Must be taken with 8oz of water. If the stools are loose, it is advised to reduce the intake to 4 capsules per day.
The Cost
The price for 60 capsules is $22.99 available online at various third-party retailers and directly from the manufacturer's website. The price includes shipping and handling.
Guarantee
We have found it to be somewhat concerning that we could not find any information on a money back guarantee.
Our Review Summary of Irwin Naturals Active-Cleanse and Probiotics
The manufacturer has made it easy for the consumer to access this supplement as it is available through various third party-retailers and the consumer is assured of a very reasonable price. Unfortunately, to our dismay have we found that the manufacturer does not offer any money back guarantee, this product contains Lead which might cause birth defects or other reproductive harm. We find it crucial that the manufacturer should have some form of a guarantee, as such a dangerous ingredient is included in the supplement. The fact that there are additives present in the ingredients, hinders the purity of the supplement, which might affect the outcome of this supplement. We could not establish if this product has GMP Certification.
Well researched reviews, from the experts at Research & You.