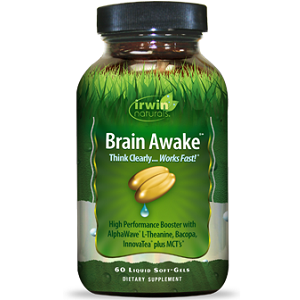 Irwin Naturals Brain Awake - Does It Work?-Review
What is Irwin Naturals Brain Awake?
This review will take a close look at Irwin Naturals Brain Awake, a  product that claims to be scientifically formulated to boost your brain function and mental performance. It is ideal for students and working professionals, but it is suitable for anyone who wants to optimize performance and productivity.
The manufacturer claims that unlike other products that give you a short-term boost at the expense of jitters and fatigue, Brain Awake boosts your brain, and provide you with supportive nutrients that calm and nourish your central nervous system.
Ingredients & How It Works
Vitamin B6
Folate
Vitamin B12
MCT
Acetyl L-Carnitine
Bacopa extract
Holy Basil
AlphaWave L-Theanine
InnovaTea Natural Tea Extract
Lemon Balm extract
Rosemary Extract
Bioperine Complex:
BioPerine Black Pepper extract, Ginger extract
All these ingredients play different roles in your brain. For instance, Acetyl-L-carnitine, also known as ALCAR, is a brain-specific form of L Carnitine, that provides antioxidant support for the brain to help boost both physical and mental energy. There are, however, other ingredients that could have been included to make the product more effective, such as, Ginkgo biloba, and Huperzine A.
Daily Serving
The recommended dose is three (3) liquid soft-gels daily with a meal and a full glass of water. It is suggested not to take this supplement in the evening if caffeine keeps you up at night, because the product contains natural caffeine.
The Cost
60 liquid softgels cost $22.99 when purchased through the manufacturer's website. You can also purchase Brain Awake through online third-party retailers at varying prices. For instance, one of the retailers sells one bottle of 60 softgels for $26.00, while another one sells it for $17.99. Discounts are available at selected retailers.
Guarantee
The manufacturer does not offer any money-back guarantee on this supplement, which is disappointing because a good product would normally be backed by a guarantee. This indicates that the manufacturer has no confidence in the effectiveness of their product.
Our Review Summary Of Irwin Naturals Brain Awake
Irwin Naturals Brain Awake might be beneficial in boosting the brain and mental performance, and in nourishing the central nervous system. It is available from various online retailers, which is good because it provides you with many options to choose the right deal for you.
We also like that it contains natural ingredients. However, individuals who have allergies and food intolerance should be careful as this product contains soy and tree nuts. Furthermore, it has caffeine, which may affect blood pressure and/or heart conditions. Therefore, it is highly recommended that you check with your healthcare professional before you take this supplement.
Please take note that this supplement is not backed by a money-back guarantee. This means that you will not be able to return it for a refund if you are unsatisfied with it. Therefore, you are taking a risk if you buy it.
Moreover, there are very few consumer reviews about Brain Awake across all retailers' websites. This could mean that it is not well known, or not many people have bought or used it. We recommend that you rather buy a product with better qualities than this one. 
Well researched reviews, from the experts at Research & You.