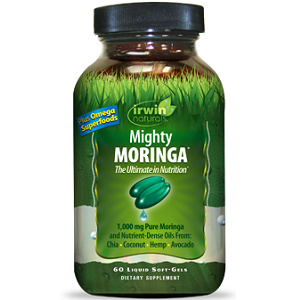 Irwin Naturals Mighty Moringa - Does It Work?-Review
What is Irwin Naturals - Mighty Moringa?
In this review, the product Mighty Moringa by Irwin Naturals, will be discussed. Moringa is a supplement that has been used over the centuries for its health benefits. As a dietary supplement, Moringa has the goal of feeding the body, ensuring that you receive all the nutrients and antioxidants necessary for optimal health, thereby enhancing your nutritional status.
Ingredients & How It Works
The active ingredients are:
Moringa Oleifera (1000 mg)
Hemp Seed Oil (400 mg)
Coconut Oil (300 mg)
Avocado Oil (200 mg)
Chia Seed Oil (100 mg)
BioPerine Complex (6 mg)
Moringa is a herbal supplement that provides a good source of vitamins, minerals, and proteins that offer many health benefits. This herb offers antioxidant protection against damage to your cells. In addition, this supplement is used to deal with anemia, constipation, diarrhea, arthritis, high blood pressure, kidney stones, increasing breast milk in breast-feeding mothers, and ameliorating thyroid problems. Hemp, in turn, is a super food, high in protein, and containing all 8 essential amino acids. Hemp is also a good source of omega 3 and 6, as well as vitamin E.
Other, inactive ingredients: gelatin, purified water, glycerin, soy lecithin, silicon dioxide, titanium dioxide, and sodium copper chlorophyllin.
There is a warning about some of the ingredients. This that some of the chemicals in Irwin Naturals' Mighty Moringa are known to cause birth defects and other reproductive problems, as well as cancer.
Daily Serving
The manufacturer recommends taking two capsules per day with a full glass of water and food. The instructions on the label does, however, not state time of day the capsules should be taken, nor whether one in the morning and one in the evening for optimal results. What is, however, declared, is that the product is not for anyone below the age of 18 years, nor for nursing mothers, or pregnant women. Those with any health concerns should first speak to their doctors before taking these supplements.
The Cost
The supplement is available to purchase on third-party sites and directly online from the manufacturer for $24.00 per 60-capsule bottle, excluding shipping fees. With each purchase, you earn reward points. There are, however, no discounts for bulk orders.
Guarantee
There is a refund guarantee if the product is returned, whether opened or not, within 90 days. The refund does attract a shipping fee. If more than 12 items are returned, a restocking fee of 15% applies.
Our Review Summary Of Mighty Moringa
The company offers a 90-day return policy, thus allowing you to test the product, although returning it will attract some deductions. The product comes in easy-to-swallow soft, gel capsules.  However, of grave concern is that some of the added ingredients found in this Mighty Moringa supplement by Irwin Naturals may cause health problems, such as cancer and birth defects. For those wishing to buy this supplement, the company does not offer bulk discounts on purchases. There are, however, other Moringa supplements on the market that not only cost less if brought in bulk, but are free from harmful ingredients.
Well researched reviews, from the experts at Research & You.