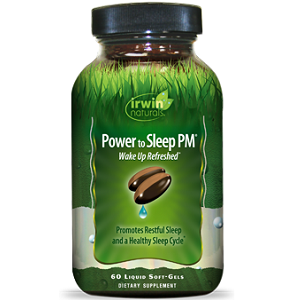 Irwin Naturals Power to Sleep PM - Does It Work?-Review
What is Irwin Naturals Power to Sleep PM?
Today we review Irwin Naturals Power to Sleep PM. It is crucial for your health and wellness to get enough restful sleep in at night. Irwin Naturals have claimed to design Power to Sleep PM for this specific reason. It will help you feel more relaxed, have a peaceful sleep, and feel refreshed in the morning. To understand what the ingredients in Irwin Naturals Power to Sleep PM can do and if this product is worth a try, read our review below.
Ingredients & How It Works
Calcium Citrate
Magnesium Citrate
Flaxseed oil
Valerian extract
Ashwagandha extract
Hops extract
Passionflower extract
Lemon balm extract
GABA
L-Theanine
Melatonin
BioPerine Complex (black pepper extract, ginger extract)
Gelatin
Purified water
Glycerine
Soy lecithin
Beeswax
Maltodextrin
Caramel color
Titanium dioxide
Irwin Naturals Power to Sleep PM has a long list of good ingredients. Valerian extract helps calm the body and mind whilst Hops extract helps with anxiety and restlessness. The manufacturer claims that their BioPerine complex which they designed, enhances the bioavailability and absorption of many nutraceuticals. There are however key ingredients missing from this list. L-ornithine which is essential for relieving insomnia, reducing stress, and improving sleep quality is not found here. Melatonin on the other hand is present in this product however the amount provided per serving is much too little for it to be effective. There is only 2 mg in a serving of Irwin Naturals Power to Sleep PM. 6 mg is the recommended amount.
Daily Serving
It is recommended by the manufacturer that 2 liquid softgels be taken, 30 minutes before bedtime. It is crucial that persons under the age of 18 do not use this product. Pregnant and lactating women as well as persons on medication should not use Irwin Naturals Power to Sleep PM.
The Cost
Irwin Naturals Power to Sleep PM can be purchased online from the manufacturer's website at $20.99 for a bottle of 60 liquid softgels. Shipping and handling is included. A list of retail stores can be found on the manufacturer's website where one can also purchase the product.
Guarantee
After studying the manufacturer's website and the label of the product, we were unable to find any evidence of a money-back guarantee. This is unfortunate as customers would prefer trying the product without any risk involved. If they are unsatisfied, they will not be able to get a refund.
Our Review Summary of Power to Sleep PM
There are a few things to like about Irwin Naturals Power to Sleep PM. It contains certain key ingredients which are essential to the relief of insomnia and it comes in easy to swallow liquid softgels. We do however see a few negative aspects about the product. A very crucial ingredient, L-ornithine which helps improve sleep quality and relieve insomnia, is not found in Irwin Naturals Power to Sleep PM. There is also a very low amount of melatonin in each serving which could mean that it will be ineffective. Another major concern that we have as that the manufacturer does not offer a guarantee. A lack of guarantee and crucial ingredients could indicate that Irwin Naturals Power to Sleep PM is not effective for the relief of insomnia and this is why we cannot recommend it.
Well researched reviews, from the experts at Research & You.