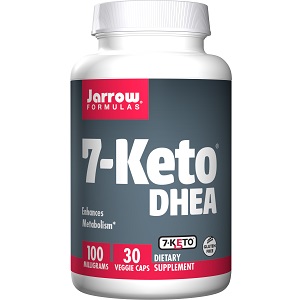 Jarrow Formulas 7-Keto DHEA - Does It Work?-Review
Introduction
The following is a review of the supplement 7-Keto DHEA: This supplement is produced by the company Jarrow Formulas. The company claims that this product will support energy levels. It will activate the enzymes responsible for carbohydrate and fatty-acid metabolism, therefore helping to lose weight and maintain a healthy weight. In addition, this product is claimed to help supply fitness and sporting needs.
Ingredients
7-oxo-dehydroepiandrosterone-3ß-acetate (100 mg)
Cellulose
Magnesium stearate (vegetable source)
Silicon dioxide
The capsule consists of hydroxypropylmethylcellulose. DHEA is known to increase the metabolic rate, but also to enhance the body mass index (BMI). Although the body produces this substance, ageing causes a drop in the level, which correlates to a decrease in the metabolic rate.
Dosage
The manufacturer states that one (1) capsule should be taken twice daily. Alternatively, a user can follow the instructions of their health-care provider. The company neglects to inform the user whether this supplement should be taken with or without food. Time of the day at which the product should be taken for optimal benefits, is omitted.
Possible Side Effects
Although this supplement is free from wheat, gluten, soybeans, dairy, egg, fish, shellfish, and nuts, pregnant women and nursing mothers should not take this product. Anyone with a medical problem, on prescription medication, or younger than 18 years of age, should first speak to their doctor before embarking on 7-Keto DHEA.
Price
7-Keto DHEA is not directly available from the manufacturer. There are several online stores and health stores stocking this product. One, for example, is Pure Formulas. On this third-party site, the product is available at $14.05. This is a discounted purchase price, the original price being $21.95. The price also includes free shipping. On Amazon, a 30-capsule bottle retails at $9.12 (excluding shipping). The same third-party site also has a 90-capsule bottle available at $37.67 (discounted from $58.95, including free shipping). The same bottle is priced on Amazon at $33.95 (including free shipping, the amount being over $25.00).
Guarantee
The manufacturer of this product does not provide a guarantee of any kind on this supplement, possibly because the company does not sell the product directly. In the case of Pure Formulas, for example, there is a 30-day money-back guarantee on the supplement. However, the bottles should unopened and in mint condition. Any opened bottles are not accorded any guarantee. There are many reviews on this product. On Amazon there are 227 reviews, giving an above-average rating. Our research found that 90% of these reviews are of high quality and may be trusted. However, our research uncovered that 40 reviews had been deleted from the Amazon site. Reviews are useful as they allow a potential buyer to gauge how other people have experienced the product – the positives and the negatives, before buying it themselves, possibly wasting their money.
Our 7-Keto DHEA Review – Conclusion
Boosting energy levels and losing weight with the use of 7-Keto DHEA appears promising. The product comes in an easy-to-take capsule form. More so, the company offers two different sizes of bottle (one 30-capsule and another 60-capsule). Reviews on this product are mostly positive. There are some concerns, however. One is the lack of a manufacturer's guarantee, which questions the effectiveness of this supplement. The product is also not available directly from the manufacturer, only on third-party sites which offer their own pricing. Lastly, the dosage instructions are unclear.
Well researched reviews, from the experts at Research & You.