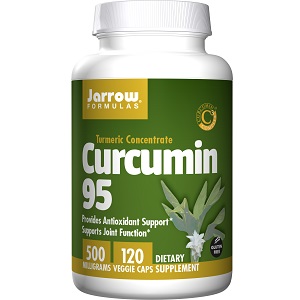 Jarrow Formulas Curcumin 95 - Does It Work?-Review
What is Jarrow Formulas Curcumin 95?
In this review, we will be taking a look at a product from Jarrow Formulas which is called Curcumin 95. Curcumin is the active compound found in turmeric. Although the most commonly known use for turmeric is as a spice in Asian cuisine it has been used for its amazing medicinal qualities for centuries. One of the main properties of curcumin is that it is a powerful anti-inflammatory which increases joint health while minimizing swelling and pain. Additionally, curcumin also has antioxidant properties which means that it may reduce the oxidative effects which stress has on the body.
Ingredients & How It Works
   Turmeric Concentrate (Curcumin C3 Complex) 500mg
   Cellulose
   Magnesium Stearate
   Silicon Dioxide
   Hydroxypropylmethylcellulose
This appears to be a good ingredient list as the active ingredient contains a concentration of 95%, which is the recommended level for products that contain this ingredient. Additionally, this product does not contain any ingredients derived from animals, which means that it is suitable for vegetarians as well as vegans. Unfortunately, we were quite disappointed by the large number additional additives included in this product.
Daily Serving
The manufacturers of this product recommend that you take one capsule daily along with food and water. The company that produces this dietary supplement also advises the consumer to consult with a healthcare practitioner before taking it. The dosage that is advised seems to be a little low at 500 mg a day. Similar products which are available recommend a minimum of 1000 mg of curcumin daily to achieve the best results.
The Cost
You can purchase this product online, however, you will not be able to buy it directly from the manufacturer. You should expect to pay $17.77 for a bottle which contains 120 capsules. We believe that this is a very reasonable price as one bottle should last you for approximately three months. This means that you are really only paying $5.92 for one month worth of supply of this product.
Guarantee
After a considerable search, we were unable to find any guarantees available for this product. This was rather concerning as it shows a lack of faith from the manufacturer. Additionally, the absence of a guarantee on this dietary supplement seems to indicate that they do not value their customers.
Our Review Summary of Curcumin 95
In this review, we found that Curcumin 95 from Jarrow Formulas is a perfectly acceptable supplement which provides support for the health of your joints. This product is very reasonably priced as well as being a safe option for vegans and vegetarians. However, we were not impressed by a few things when we completed this review. If you follow the recommended dosage you will not be meeting the required daily value for curcumin which means that this product will probably not be effective. Additionally, this product contains a relatively high percentage of artificial ingredients. The manufacturers of this product also do not offer any guarantees on their product which is rather concerning.
Well researched reviews, from the experts at Research & You.