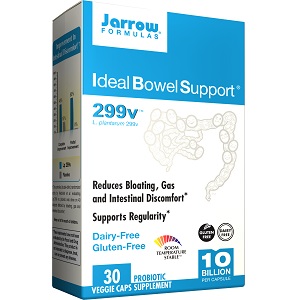 Jarrow Formulas Ideal Bowel Support 299v - Does It Work?-Review
What is the Jarrow Formulas Bowel Support 299v?
The below product review explores all the real facts about Jarrows Formula Bowel Support 299v. The manufacturer of this product claims that it will assist by reducing bloating, gas, intestinal discomfort and it will also support regularity. The product claims to manage symptoms associated with IBS. We take an in-depth look at all the facts to see if this product lives up to its claims.
Ingredients & How It Works
Lactobacillus Plantarum is a member of the genus Lactobacillus, which is commonly found in various fermented food products and anaerobic plant matter. It is also present in saliva. Magnesium Stearate is a substance that is beneficial because it has lubricating properties, preventing ingredients from sticking to manufacturing equipment. Hydroxypropylmethylcellulose is derived from vegetable cellulose.
Daily Serving
According to the manufacturer, you should take one capsule once or twice per day along with a meal or alternatively, you could use this product as directed by a healthcare practitioner. The provided cautions state that if you are pregnant, breastfeeding, trying to conceive, under 18 years of age or using any medications that you should first consult a healthcare practitioner to confirm the safe usage of this product for your individual requirements.
The Cost
This product can be purchased online from the manufacturer's website and it is also available from Amazon. One bottle containing 30 vegetarian-friendly capsules will cost you $80.85 and this could be either a one or two month supply depending on your usage. Unfortunately, there are no suggested discounted options for this product which is disappointing especially because it is an extremely expensive option in comparison to most similar products.
Guarantee
This product has been backed by a significantly strong money back guarantee that is suggestively valid for 60 days from your purchase date. The provided details for this guarantee show that it fully covers the effective results of the product and any issue that you may experience which shows confidence and offers customers a risk-free purchase.
Our Review Summary Of Jarrow Formulas Bowel Support 299v
This product has been backed by a strong and confident manufacturer's guarantee and it does use a good ingredient that may be beneficial which could imply that it is an ok product although, in comparison to other similar products, it seems to lack ingredients and this is somewhat concerning. Realistically, this is most likely not an affordable option for most of us when considering the extremely high price suggested for one bottle and the manufacturer does not provide any discounts to increase the general affordability. In conclusion, Jarrow Formulas Bowel Support 299v does not possess any significantly superior qualities when compared to most other similar products and therefore, you should rather consider other similar products available from leading brands that would offer more affordable options that have proven to be more effective.
Well researched reviews, from the experts at Research & You.