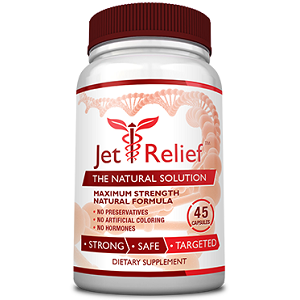 Jet Relief - Does It Work?-Review
Traveling through different time zones can throw your circadian rhythm out of sync. Jet lag not only affects how tired you are, symptoms can also include sleep disturbances, extreme tiredness, cognitive effects, headaches, and irritability, all of which can potentially ruin your trip. Waiting for jet lag to wear off can take anywhere from a few days to more than a week but there are products available that can help relieve symptoms of jet lag. This review is going to take a closer look at one such product called Jet Relief. Jet Relief offers a formula that is designed as a dual action solution for tackling jet lag. It contains an extensive list of ingredients that have all been shown to contain properties that can combat a variety of jet lag symptoms.
What is Jet Relief?
Magnesium

Calcium

Vitamin B

L-ornithine

L-theanine

GABA

Chamomile

Ashwagandha (Withania somnifera)

DMAE Bitartrate
One of the main symptoms of a magnesium deficiency is insomnia. Balancing healthy levels of magnesium is crucial in order to regulate sleep patterns. It is also commonly used to combat stress by promoting a muscular calm. You need calcium in order to be able to absorb magnesium. Calcium can also ensure that you remain hydrated. GABA is chemical that the brain produces. It acts as a neurotransmitter in the central nervous system which provides a calming effects to help relieve anxiety. L-ornithine is an amino acid that can relieve stress and improve the quality of your sleep. L-theanine is also an amino acid. It can sharpen your mental focus and calm anxiety.
Daily Serving
The manufacturer recommends for adults to take 2 capsules half an hour before take off and 2 capsules on arrival. They should be taken a minimum of 4 hours apart. You should take one capsule a day until you are no longer experiencing symptoms of jet lag.
If you are pregnant, nursing or under medical supervision, you should talk to your doctor before taking these capsules.
The Cost
You can purchase this product directly from the manufacturer online. One bottle costs $49.95. The manufacturer offers several generous bulk purchasing options as follows: You can purchase two bottles for $34.95 a bottle, 3 bottles for $31.95 a bottle, 4 bottles for $27.95 a bottle, 5 bottles for $24.95 a bottle and finally 6 bottles for $23.30 a bottle.
Guarantee
The manufacturer offers a 100% satisfaction guarantee and a 60-day money back guarantee.
Our Review Summary of Jet Relief
This product is one of the better jet lag relief products we have seen available on the market. It contains one of the most extensive lists of ingredients we have seen that offers all-encompassing relief from symptoms of jet lag. The manufacturer offers generous bulk purchasing packages and manufacturer's guarantee so you can try this product risk-free. Consumer feedback we saw was mostly positive. Consumers claimed that Jet Relief helped them skip the annoying fatigue and headaches that come from traveling across time zones. Others claimed that it offered the additional benefit of calming their nerves they got from flying.
Well researched reviews, from the experts at Research & You.