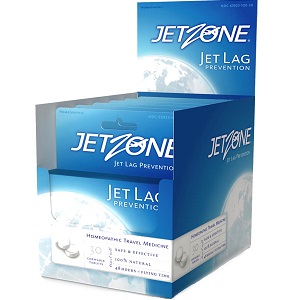 JetZone Jet Lag Prevention - Does It Work?-Review
What is JetZone Jet Lag Prevention?
The subject of this review is for a product called JetZone Jet Lag Prevention. When one travels fast over different time zones, jet lag usually occurs. The body must now get use to different times of day and night. The homeopathic remedy developed by JetZone claims that they can help prevent jet lag from occurring. The manufacturer claims that their product can be used by travelers, flight attendants, and pilots. Find out more about JetZone Jet Lag Prevention by reading our full review and see if it can work for you.
Ingredients & How It Works
Arnica Montana
Cocculus Indicus
Kali Phosphoricus
Gelsemium Sempervirens
Nux Vomica
Argenticum Nitricum
Lactose
Magnesium Stearate
Sorbitol
Starch
JetZone Jet Lag Prevention contains homeopathic ingredients which are combined to help prevent jet lag. It aims to temporarily relieve the disruption in the circadian rhythms and help with fatigue which is associated with jet lag. In addition to this, the product helps with symptoms such as insomnia, irritability, exhaustion, anxiety, and headaches which is caused by traveling and fatigue.
Unfortunately, the product does not contain L-ornithine which is essential to help relieve stress and improve sleep quality. Lack thereof may cause the product to not be as effective as other products that mean to deliver the same purpose. Customers must also remember that certain combinations are effective and others may be dangerous for your health.
Daily Serving
This product may be used by adults as well as children over the age of 6 years. Users are recommended to chew one tablet about one hour before each takeoff. After takeoff, users should chew one tablet every 2 hours. Once landed, chew one tablet within one hour. The manufacturer suggests that users should not wake up every 2 hours to chew the tablet, however, that one must carry on sleeping. Just ensure you chew a tablet after waking up, and then continue use every 2 hours.
The Cost
Customers can follow the instructions on the manufacturer's website to place an online order for JetZone Jet Lag Prevention. Fist time customers are provided with a $5 discount with the first order of $15 or more. A long list of online retail stores can be found on the manufacturer's website. A box of 30 chewable tablets costs between $8.84 and $11.49. This is a very low price in comparison with other products. It may indicate low quality ingredients. The manufacturer does not offer discounts for all customers.
Guarantee
The manufacturer offers a 100% money-back guarantee if you are not satisfied with the product. This guarantee does not indicate a return time. First time users will also no know what condition the product must be in upon returning it. We find this to be a very weak return policy.
Our Review Summary Of JetZone Jet Lag Prevention
JetZone Jet Lag Prevention seems to be a promising product. It comes in chewable tablets which are easy to take. Also, the manufacturer offers a discount for first time customers.
Unfortunately, there are many more things we do not like about the product. Firstly, it does not contain L-ornithine. Lack thereof may render the product less effective. Furthermore, the product is sold at a very low price which may indicate the use of low quality ingredients. Lastly, the manufacturer offers a very weak guarantee which is basically useless. These reasons lead us to believe that this product is not effective. We do not recommend the use of JetZone Jet Lag Prevention.
Well researched reviews, from the experts at Research & You.