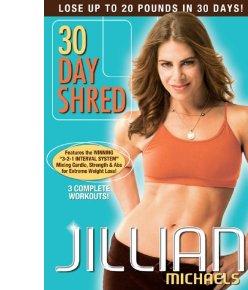 Jillian Michael's 30 Day Shred-Review
Jillian Michael became a more recognized name with the Biggest Loser but has another important reason for fame: her 30 Day shred program. The promise of making you shed weight and get fit within a month sounds incredible but not when Jillian puts her considerable influence to push the claim, having demonstrated what she is capable of achieving, with several overweight people.
About the Product
If nothing else, Jillian Michael has left no doubt in the minds of millions of Americans of her motivational ability. Making people work harder than they believed they were capable, whether with a treadmill or doing push ups, Jillian has demonstrated what people can achieve with the proper motivation. And that is the most important thing if you want to shed weight and improve your fitness. While there's nothing like a personal trainer to motivate you, most people would consider Jillian's 30 Day Shred as a relatively inexpensive alternative.
How it Works
Jillian quantifies her promise by offering to help you lose 20 pounds in 30 days. While that would represent a pretty impressive achievement, it is still within the realm of possibility, and sounds credible. And when Jillian Michael makes the claim, it sounds still more credible especially if you are one of those who have watched her on The Biggest Loser. The show itself plays up the coaching aspect in weight loss campaigns, with much emphasis on the right nutrition as recommended by trainers. That being said, it's not possible to pinpoint any particular cause for the loss of dozens to hundreds of pounds dropped by the contestants, while taking nothing away from Jillian Michael's authority on the subject of losing weight.
How Much it Costs
The 30 Day Shred will set you back by $10 for a DVD and if you want to save money and time, you can download the program for just $5.
How You Make it Work
While 30 days sounds like a reasonably short period, a whole lot of distractions can take place during that time to dilute your resolve to see the program through to its successful end. The program will work only if you are single minded in your determination to see it through.
Final Review
Jillian Michaels' system involves a holistic approach and does not depend either on exercise or on dieting to the exclusion of the other. Rather, she emphasizes both measures accompanied by a positive frame of mind. An attractive aspect of the program is that Jillian does not dominate the show but also allows others to host it, such as models to show how beginners could tackle the program. Some models are also employed to demonstrate more advanced exercise techniques. This enables the 30 Day Shred to have a more universal appeal with beginners and experienced exercisers alike. The beginners are expected to aim for the advanced levels and therefore get to see what they are aiming for. In contrast to many other weight loss programs, the three different levels of exercises on the DVD help highlight the scalability of the program and should motivate a user of the program who can prolong it for as long as he likes. Jillian appears to be concentrating on other areas these days and that accounts for the fact that the 30 Day Shred is not being promoted as aggressively as before. Also, no updated version has ever appeared. With a combination of cardio and muscle building exercises, the 30 Day Shred concentrates not only on weight loss but also on muscle building. So if you go with realistic expectations you could have a satisfying experience. A month each spent on the three levels -- starting with the beginners and moving on to the advanced through the intermediate -- will surely help you see impressive results especially if you follow the nutrition advice as well. Whether you are a newbie starting out on an exercise regime or quite experienced with working out, you are likely to gain from the 30 Day Shred.  As with any other work out, regularity is the key, and persistence is certain to pay good dividend.
Well researched reviews, from the experts at Research & You.