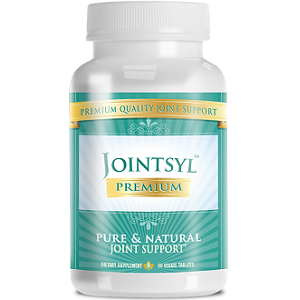 Jointsyl Premium - Does It Work?-Review
What is Jointsyl Premium?
Jointsyl Premium is a dietary supplement that contains naturally derived ingredients designed to support the maintenance of joint health and enhance the healing of damaged joint tissues. Joints are complex body tissues that are under a lot of stress because of our daily activities and it is easy to develop joint problems and pain. But they are also very adaptable tissues that can heal quickly given the right nutrients and building blocks.
Ingredients & How It Works
Glucosamine Sulfate
Methylsulfonylmethane
Chondroitin Sulfate
CMO
Hyaluronic Acid
Black Catechu Bark
L-Glutamic Acid
L-Cysteine
White Willow Bark Extract
Boswellia Gum Extract
Holy Basil Leaf Extract
Turmeric Extract
Ginger root Extract
Bromelain
Rutin
Joints in the body are made up of large amounts of a tissue called connective tissue. This means that when there is a problem with them, it is most likely concerned with the substances that are between the cells in the joint and not the cells themselves. Glucosamine sulfate, chondroitin sulfate and hyaluronic acid all contribute to restructuring the extracellular matrix, which is this amalgamation of substances between the cells. Strengthening the extracellular matrix helps to repair the joint. Other ingredients like turmeric contain antioxidants to reduce inflammation. White Willow bark extract contains salicylic acid which helps to reduce pain. Bromelain is included because it breaks down certain proteins, which in this case, can help to reduce swelling in the joints.
Daily Serving
The daily serving of Jointsyl Premium consists of three tablets a day. The best results come from taking one tablet in the morning, one tablet in the afternoon and one tablet in the evening. The dosages of the active ingredients are all based on and match scientific literature.
The Cost
The listed price for one bottle of Jointsyl Premium is $68. The supplement is currently on sale for $48. The manufacturer also offers other discounts for when a customer buys in bulk. Three bottles of Jointsyl Premium together cost $91 instead of $144. Four bottles can be bought for $112. Six bottles will cost $138. Each bottle contains 90 capsules.
Guarantee
Jointsyl Premium is satisfaction guaranteed with a 90-day complete money back guarantee. This means that if customers are unhappy for any reason they can return the product for a refund even if it has been opened and used.
Our Review Summary Of Jointsyl Premium
The ingredients in this product are well researched and their biological actions contribute in a number of ways to reduce joint pain and promote its health. The supplement seems easy enough to take, as the instructions are simple to follow.
The price that the manufacturer is asking for is quite reasonable and we are especially impressed that they offer discounts for buying multiple packages. The guarantee for Jointsyl Premium is very clear and it suggests to us that the manufacturer is confident that their product will work or else they wouldn't put their money on the line. Find out more about the manufacturer.
Well researched reviews, from the experts at Research & You.