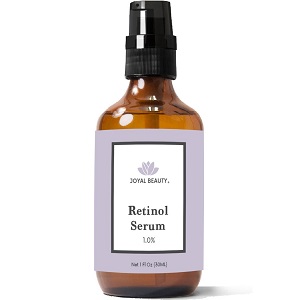 Joyal Beauty Retinol Serum - Does It Work?-Review
What is Joyal Beauty Retinol Serum?
The subject of this review is for a product called Joyal Beauty Retinol Serum. This night serum is designed to help reduce wrinkles and leave the individual with a younger looking skin. Read on to see what Joyal Beauty Retinol Serum offers in terms of an effective night serum.
Ingredients & How It Works
Aqua (Deionized Water)
Cassia Angustifolia Seed Extract (Botanical Hyaluronic Acid)
Witch Hazel
Glycerin (Kosher, Vegetable)
Organic Aloe
Triticum Vulgare Germ Oil
Organic Jojoba Oil
Retinol (1%)
Tocopheryl Acetate (Vitamin E)
Camellia Sinensis Leaf Extract (Organic Green Tea)
Propolis Extract
Organic Gotu Kola
Equisetum Arvense Extract
Geranium Maculatum Extract
Organic Dandelion
Pentylene Glycol
Hydroxyethyl Ethylcellulose
Carrageenan
Polysorbate 20
Potassium Sorbate
Sodium Benzoate
Lecithin
Ethylhexylglycerin
The manufacturer claims that the ingredients in this product, specifically the retinol (pure form of vitamin A), will help provide a smoother, firmer, and more youthful looking skin. It aims to fight dark spots, blemishes, wrinkles, and fine lines. However, our research has shown us that other brands contain at least 6 patented ingredients, whereas this product contains none. This is quite a setback as these ingredients are also backed by credible research proving effectiveness. In addition to this, the product is also lacking alpenrose and electric daisy flower, just to name a few essential ingredients. As a result, the product may not be as effective as other brands and does not seem to stand out above the rest.
Instructions
The user is recommended to first cleanse and tone the face before applying a single pump to the face, at night. If it is the first time using a retinol product, first build up a skin tolerance. Use the product twice a week and gradually increase the use thereof to every night. If the skin tolerance has not been built up yet, mild redness, peeling, and irritation may occur. Follow with a moisturizer and remember to use sun protection in the day.
The Cost
The product is available online from the manufacturer's website. The original price for the product was $24.95, however, it is now sold at $19.95. In comparison with other brands, this is a rather low price. This may be an indication of low-quality ingredients, or the fact that the product lacks clinically proven and patented ingredients. Bulk purchasing options are not made available.
Guarantee
Joyal Beauty Retinol Serum is backed by a 30-day money-back guarantee. If you are not satisfied with your purchase, you may return it for a full refund. However, returns are only accepted if the item is returned in the same condition as received, Thus, the customer will not be allowed to open and test the product. This is a weak guarantee and you may be at risk.
Our Review Summary Of Joyal Beauty Retinol Serum
This review has provided us with a clear understanding of the benefits offered by Joyal Beauty Retinol Serum. We see that there are clear and helpful instructions provided by the manufacturer that will help each customer when using this product.
However, we have also found a few things about the product that we do not like. There seems to be a lack in ingredients that are backed by credible research as well as patented ingredients. Following this, the product is priced very low and may support the lack of effective ingredients. Finally, the manufacturer does not back their product with a solid guarantee and will leave their customers at risk when making a purchase. Joyal Beauty Retinol Serum does not seem to be an effective product and we recommend that you search for an alternative option.
Well researched reviews, from the experts at Research & You.