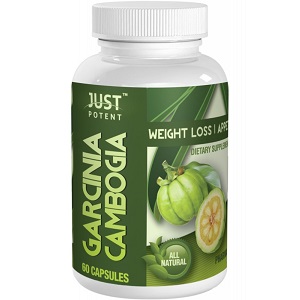 Just Potent Garcinia Cambogia - Does It Work?-Review
What is Just Potent Garcinia Cambogia?
The following is a review on Garcinia Cambogia produced by Just Potent.
This product is an appetite suppressant, a mood lifter, and a fat metabolizer. Garcinia Cambogia's fruit rind, originating in South East Asia, is used to make people feel full before eating meals and is used for effective weight loss. Hydroxycitric acid is extracted from the fruit and increases the potential for weight loss. The product increases serotonin levels thereby boosting positive emotional well-being and good sleep behavior. They claim that fat stored in the body is used up because as your appetite is suppressed, you tend not to want to eat and therefore the body must find resources to feed off. They claim it is completely pure and effective.
Ingredients & How It Works
Garcinia Cambogia with 60% HCA (Hydroxycitric Acid), 3000 mg Strength per serving
Stearic acid
Magnesium stearate
Ditab (Phosphorus, Calcium, Fluorine, and Iron)
Croscarmellose
MCC
Silica
All the ingredients are 100% natural, free of GMO's and GMP certified. They conform to the medical control council's statutes. The ingredients consist of fatty acids that lower cholesterol, salts, minerals, stabilizers, and antioxidants. Garcinia Cambogia's active ingredient is HCA which is said to prevent the build-up of fats in the body; increases the metabolism, stamina, and energy; as well as suppressing the appetite which all support weight loss. It also increases serotonin levels which acts as an emotional booster. Compared with similar products, this has a lot of added ingredients and a lower percentage of Garcinia Cambogia, Other leading brands offer 90%.
Daily Serving
Three tablets per day should be taken. Best taken half an hour before daytime meals.
Suitable for adults only. The manufacturers warn not to exceed the recommended dose.  
The supplements are not suitable for nursing or pregnant women. A doctor should be consulted if a medical procedure is to be undertaken for if you are on chronic medication.
The Cost
Purchasing off their website, a bottle of 90 tabs will cost $19.99, which offers a savings of $35 off their normal selling price, including free shipping. A further $2 discount is given if you buy an additional bottle. Taking 3 tablets per day, the bottle should last a month.
Guarantee
The manufacturer offers a full refund if you are not satisfied with this product, however, this refund only applies to bottles that have not been opened at all. This means that consumers who have already opened and tried the product may not qualify for a refund if they are unhappy with the results.
Their customers rave about the success of Garcinia Cambogia on their website, however, when looking at trusted sources, we found an abundance of negative reviews mentioning that this product did not provide any results and they were unable to get a refund.
Our Review Summary Of Just Potent Garcinia Cambogia
This appears to be a promising product, offering good value for the pocket and weight loss. The website is comprehensive and informative. The downside is that they claim to offer full cash back guarantees and are easily contactable, however, this refund does not cover products that have already been opened and tried. This is concerning as the manufacturer has not provided any confidence in the effectiveness of this product. There are only a few reviews for the product on the website which are positive but when you look at trusted sites, there is an abundance of negative reviews mentioning that this product has failed to deliver any results. Just Potent previously sold this product as 65% HCA 1000mg, now they've increased the serving strength to 3000mg with 3 tablets per day at 60% HCA levels which is substantially lower than the 90% of HCA levels offered by other leading brands. It may be in your best interest to look for alternative brands that have unbiased and factual customer feedback, a strong money back guarantee and offer a more pure and potent form of Garcinia Cambogia. 
Well researched reviews, from the experts at Research & You.