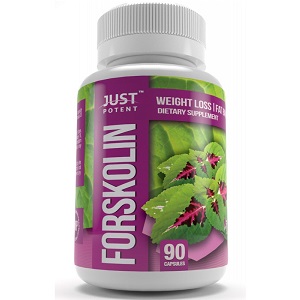 Just Potent Pharmaceutical Grade Forskolin Extract - Does It Work?-Review
What Is Just Potent Pharmaceutical Grade Forskolin Extract?
The following is a review of a product from Just Potent known as Forskolin Extract. This extract is found in the roots of the Forskohlii plant. The manufacturers of this product state that their product is a powerful tool to facilitate weight loss. This herbal supplement also raises the body's core temperature so that the fat which is stored in the body is metabolized and then converted into energy. Another major claim associated with this product is that it may act as an appetite suppressant which further boosts is weight loss benefits.
Ingredients & How it Works
This product is a herbal supplement which is made exclusively of Coleus Forskohlii root extract. This extract is standardized to 20% to promote weight management. Although this product does not contain any additives, preservatives or binders we could not find any information regarding the ingredients used in the capsule which contains the supplement. This means that this product is probably not suitable for vegetarians as the supplement could possibly be encased in a gelatin capsule.
Daily Serving
The manufacturers of this product recommend that the average user take two capsules daily. This equals to a dosage of 400 mg to be taken lately. We think that this seems on the lower range as most other supplements which contain Forskolin recommend that the average consumer takes 500 mg daily. They provide no additional instructions regarding the times at which the supplement should be taken or whether the supplement should be taken after fasting.
The Cost
You can buy this supplement on a variety of online stores. Unfortunately, we really struggled to find information regarding the price of this product. There were numerous issues with the manufacturer's website and when we went to the various other online stores which stock this product we were also unable to find any information regarding the price. All the sources that we checked for pricing information stated that this product is temporarily unavailable. After a considerable search, we were able to determine that this product is available for $19.99 for 90 capsules.
Guarantee
Unfortunately, it does not seem like there are any guarantees available to the consumer when they purchase this product. This is concerning as it indicates that there may be some concerns over how efficient this product is.
Our Review Summary of Pharmaceutical Grade Forskolin Extract
Our review of this product found that it was a fairly adequate weight loss supplement. This product is available for quite a reasonable price and contains a good percentage of Forskolin. Sadly we were a little disappointed by the manufacturer's practices. Their website did not work consistently so it really was a struggle to find information regarding this product. Additionally, we found that this product has been discontinued which is slightly concerning as it indicates that this product may not be entirely effective. We were also worried about the customer reviews on this product.  The majority of people who reviewed this product were not satisfied with the results.
Well researched reviews, from the experts at Research & You.