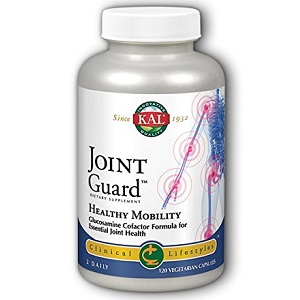 KAL Joint Guard - Does It Work?-Review
What is KAL Joint Guard?
The following review takes a closer look at KAL Joint Guard. This product aims to alleviate pain and discomfort that is caused by joint pain. Joint pain can arise because of a number of factors, one prime factor being arthritis. Our bones and joints generally begin to break down as we age and that can put some strain on our cartilages and our joints. This supplement claims to help support overall joint health thereby helping to relieve pain and improve your quality of life. If you want to know more about this product, read the rest of our review below.
Ingredients & How It Works
Vitamin D
Zinc
Sodium
Boron
Glucosamine HCI
Chondroitin Sulfate Sodium
MSM
Bovine Cartilage
White Willow
Green Shell Mussel
Boswellia
Horsetail
Turmeric
Ginger Extract
ActiSorb Proprietary Blend
The Proprietary Blend consists of Bioperine, ginger root extract, turmeric, cayenne pepper extract and rosemary leaf extract. This blend helps to provide joints with healthy nutrients that are packed with anti-inflammatories and antioxidants. Many of the vitamins and minerals in this product also support bone and cell health which helps to protect and enhance the condition of your joints.  It is not stated whether this product is vegan or vegetarian-friendly or if it is cruelty-free.
Daily Serving
It is recommended that you take 2 capsules a day with meals and preferably with a glass of water. You can take one capsule at night and one in the morning for maximum effect. Pregnant or nursing women should speak to their doctor before taking this product.
The Cost
You can't buy this product directly from the manufacturer's website, but you can get it at 3rd party retailers for $12.77 per bottle. Each bottle contains 60 tablets which mean it will last you about a month. Compared to other products, this product is quite inexpensive.
Guarantee
Since this product is not available directly from the manufacturer it also does not have a solid guarantee which shows that the producers of this product does not have a lot of confidence in its abilities. It will be up to the customer to buy this from a 3rd party retailer that do have a good guarantee in place in order to ensure their money is not going to be spent poorly.
Our Review Summary Of KAL Joint Guard
We like that this product has a wide range of natural ingredients that support the overall health of your joints. We also like that the price of this product is by far the most competitive price we have come across so far, meaning that you won't have to spend a fortune to better your health. However, we are disappointed with the lack of a solid guarantee and therefore struggle to believe that this product is very effective. We also would have preferred it if the manufacturer of this product stipulated whether it is suitable for vegans and vegetarians, since a lot of consumers are trying to be more conscious of environmental-friendly products.
Well researched reviews, from the experts at Research & You.