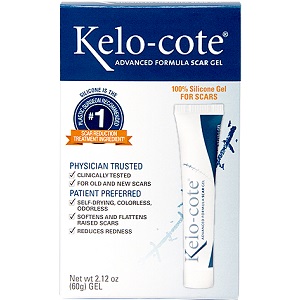 Kelo-Cote Advanced Formula Scar Gel - Does It Work?-Review
What is Kelo-Cote Advanced Formula Scar Gel?
The following review is for a product called Kelo-Cote Advanced Formula Scar Gel.  Kelo-Cote is a scar-diminishing product made from self-drying and transparent silicone. This product reduces the appearance of scars and inhibits irregular or extreme occurrence of scars. It contains clinically proven and number one dermatologist-recommended scar reduction ingredients.
Kelo-Cote works in almost all kinds of scars, whether they are new or old, from cuts and acne scars to surgery scars, making them appear flatter, softer and less obvious within four to eight weeks depending on each person.
Ingredients & How It Works
Kelo-Cote is made from two ingredients, which are Silicone Dioxide and Polysiloxanes. Both the ingredients are a type of polymer, which is a large molecule that is composed of many repeated units of siloxane. They play a special role in preventing the skin from becoming flabby and it stimulates tissue growth, consequently giving you a natural glow.
Daily Serving
Clean your scar with mild soap and water before applying Kelo-Cote, then apply a thin layer on the scar and allow it to dry. You can then apply your cosmetics or sun protecting cream once it is dry. The recommended use is twice a day everyday for two to three months. Those with sensitive skin and children are safe to use Kelo-Cote.

Do not use this product on severe burns and open wounds.
Stop the use of Kelo-Cote if your skin develops irritation and consult your healthcare practitioner immediately.
The Cost
Kelo-Cote can be purchased from a number of online retailers at a cost varying between of $26.25 to $38.50 for a 10g tube. You can buy the 10g tube in packages of two or four to receive discounts. The 60g tube is sold at a price between $85.99 and $99.99 from different retailers. There were no discounts offered on the 60g tube when we searched the different websites.
Guarantee
We could not find any information relating to the manufacturer's guarantee on the product. We searched through the manufacturer's website and those of third-party retailers. This could mean that the manufacturer lacks confidence about their product.
Our Review Summary Of Kelo-Cote Advanced Formula Scar Gel
Kelo-Cote contains ingredients that are trusted and recommended by dermatologists. Therefore, it is promising that it is capable of providing you with relief from scars that have been bothering you. The price is also reasonable for a product that could have such effects on your skin.
It is important however, for you to note that the manufacturer does not offer you any guarantee that this product will work for you. There is no reason to buy a product when it is clear that you buy it at your own risk. Some customer reviews are also concerning as it seems that many did not see any results from using this product. With this in mind it is a recommendation to buy a product that is strongly supported by the manufacturer's guarantee, and one that has good customer reviews to ensure that you make an informed decision and that you are safe.
Well researched reviews, from the experts at Research & You.