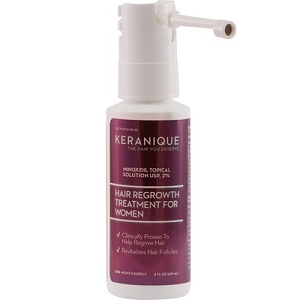 Keranique Hair Regrowth Treatment For Women - Does It Work?-Review
What is Keranique Hair Regrowth Treatment For Women?
This review seeks to uncover the truth as to whether Keranique Hair Regrowth Treatment For Women is effective in re-growing women's hair. The manufacturer claims that it is perfect for women dealing with steadily thinning hair and are looking for a long-lasting solution to the problem. The product is claimed to be clinically proven to have the ability to reactivate dormant hair follicles, causing them to start growing again.
Ingredients & How It Works
Minoxidil 2%
Alcohol
Propyleneglycol
Purified Water
These ingredients work to re-grow and revitalize your hair, as well as stimulating the dormant follicles so that they can start growing again. However, the manufacturer lists some warnings on their website to pay attention to. If you experience side effects such as chest pain, increased heart rate, dizziness, faintness, unexplained weight gain, irritation or redness of the scalp, then it is recommended to stop using this product. If you do not experience results after four months, you should also stop using the product.
Daily Serving
This product is for external use only. Use the dropper to apply 1 ml of the product directly to your scalp on the hair loss areas twice every day. You need to use the product continuously, or the process of hair thinning will start again. Deluging your head with Keranique Hair growth will not improve the results - it will only lead to wastage. Wash and rinse your hands carefully after applying this product. Keep it out of reach of children. Don't let it come into contact with your eyes. You should also not apply the product to different areas of your body.
The Cost
It seems that you can only buy the Keranique Hair Regrowth Treatment as part of a system from the manufacturer's website. This means you will be buying other products too. Along with this product, you will get a shampoo, conditioner, and a treatment spray for the cost of $49.95. The original price is $165. The manufacturer also offers two bonus gifts: a Keranique Hair Detangling Tool and Keranique Hair Volumizing Brush.
Guarantee
The manufacturer offers an incredible 120-day money back guarantee. This seems to be the exact amount of time needed to see results, which may or may not be enough time for everyone.
Our Review Summary Of Keranique Hair Regrowth Treatment For Women
This product seems that it could be a decent product for managing hair loss and hair thinning. It is FDA approved and clinically tested. It also comes with a great 120-day money back guarantee. However, the ingredient minoxidil has some serious side effects connected with it that the manufacturer warns about. The manufacturer also states that not all types of hair loss will be remedied by this product. It is also a drawback of this product that it seems you can only purchase it along with other products and not individually. This means you may have to use all the other products too to be able to see results, or if you are unhappy with any element of the package, you will have to return the whole lot if you would like a refund. We think there are better, easier to use, and more cost-effective options on the market.
Well researched reviews, from the experts at Research & You.