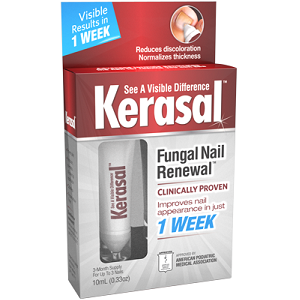 Kerasal Fungal Nail Renewal - Does It Work?-Review
What is Kerasal Fungal Nail Renewal?
Nail care products are a mature market and are filled with big brand products and newer, lesser known competitors. This is in addition to the legions of suspicious lookalike products that customers usually strive to avoid. To do this, they tend to look out for a few specific things. This includes customer reviews and endorsements, an easy to use website with manufacturer credibility, all natural ingredients, and an affordable price with a money back guarantee. Kerasal's entry in the nail fungus arena, Fungal Nail Renewal, may seem like just another nail care product, but it claims to produce visible results in just a week. So, is it just another one of the suspicious lookalikes or does it have what it takes to outlast its competitors and prove itself as a reliable commercial product? Read our review of Fungal Nail Renewal below to find out more.
Ingredients & How it Works
Propylene Glycol
Urea
Glycerin
Lactic Acid
Water
Sodium Hydroxide
Disodium EDTA
The formula for Fungal Nail Renewal is a blend of biodegradable ingredients designed to soothe, soften and renew nails from fungal damage. The keratolytic properties of urea soothe the nail while the hydrating effect of Propylene Glycol softens it. The Lactic Acid alters the microenvironment.
Daily Serving
The website recommends applying a thin layer to the afflicted nail daily before bed. Customers are advised to wait a few minutes for the product to dry. The treatment should continue for 8 weeks at minimum. If the affliction is particularly severe, treatment may last from 3 to 6 months. The manufacturer further advises customers that the product is for external use only and should be kept out of reach from children. Any and all contact with eyes and mucous membrane should be avoided. Individuals allergic to any of the ingredients should avoid contact with Fungal Nail Renewal. Possible side effects include skin irritation and discoloration of the nail.
The Cost
Fungal Nail Renewal is available over the counter at several locations such as CVS, Walgreens, Target, Walmart and Rite Aid. It can also be bought online from retailers such as Amazon where a 10 mL bottle of Fungal Nail Renewal costs $14.99.
Guarantee
The manufacturer's website does not offer any money-back guarantee.
Our Review Summary of Fungal Nail Renewal
Fungal Nail Renewal definitely comes in at an affordable price and sells over the counter as well as online. This makes it more accessible to a larger demographic, unlike competitors that only through online retailers. The product boasts clinically proven success and the website has glowing reviews (which, of course should be taken with a grain of salt, given that the manufacturer can choose which reviews appear on its site).
Kerasal doesn't offer a money-back guarantee which could indicate a lack of confidence in its own product. There is also a problem with the ingredients. One of them, Urea, can cause allergic reactions. In addition, Urea has a chance to release formaldehyde, which can cause severe reactions. We feel that the product works. Whether it's better than the competition, however, is another story.
Well researched reviews, from the experts at Research & You.