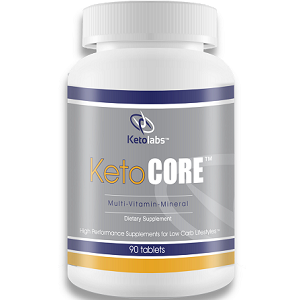 Keto Labs Keto Core - Does It Work?-Review
What is Keto Labs Keto Core?
Read our review below about the dietary supplement product KetoCore, manufactured by the company Ketolabs: It is claimed that this ketogenic supplement not only supports the body's immunity, but also acts as an anti-inflammatory, providing energy, and offering benefits for the brain and heart. Moreover, this substance enhances anti-aging and anti-stress. It purports to provide the body with the nutrition it needs, while supporting weight loss. In addition, as part of the essential nutrients, this product provides potassium and magnesium. These elements aid performance as well as reducing the incidence of cramp. This health product is claimed as a useful adjunct to a low carb, ketogenic, paleo, or Atkins weight-loss diet.
Ingredients & How It Works
The capsules contain the following ingredients:
Vitamin A Palmitate
Vitamin C (Ascorbic Acid)
Vitamin D3 (Cholecalciferol)
Vitamin E (d-alpha tocopheryl succinate)
Vitamin K1 (Phytonadione)
Thiamin (Thiamine HCI)
Riboflavin
Niacin
Vitamin B6 (Cyanocobalamin)
Biotin
Pantothenic Acid (D-Calcium Pantothenate)
Calcium (Calcium Carbonate)
Iodine (from Kelp)
Magnesium (Magnesium Amino Acid Chelate)
Zinc (Zinc Amino Acid Chelate)
Selenium (Selenium Amino Acid Chelate)
Copper (Copper Amino Acid Chelate)
Manganese (Manganese Amino Acid Chelate)
Chromium (Chromium Amino Acid Chelate)
Potassium
Molybdenum (Molybdenum Glycinate Chelate)
Lactobacillus Acidophilus (Probiotics)
Alpha Lipoic Acid
Coenzyme Q10
Boron (Boron Amino Acid Chelate)
Gelatin (Capsule)
Magnesium Stearate (Electrolytes)
The ingredients help to boost glucose metabolism, but also to promote insulin sensitivity, as well as liver fat decline. In addition, these ingredients help protect and support brain functioning. Moreover, KetoCore augments immunity; it offers antioxidants, stronger bone support. It enhances mood, lowers blood pressure and increases circulation, promoting healthy digestion.
Daily Serving
The manufacturer of this dietary supplement recommends taking one to three capsules daily with food. One capsule per day is the maintenance dose, once the weight-loss goal has been reached.
The Cost
A 90-capsule bottle is available on the manufacturer's own website at $29.88. This is a discounted rate, the original price being $59.99. However, this supplement is also available on third-party sites such as Amazon, where it is available at $29.88, as on the manufacturer's website.
Guarantee
Despite our efforts, no manufacturer's guarantee of any kind was found. This raises a concern about the effectiveness of the ingredients used in this product.
Our Review Summary Of Keto Core
As a ketogenic supplement, the product Keto Core seems promising. The manufacturer of this health product sells it on their own website, also at a discounted rate. More so, this dietary supplement is free from fillers and binders, which otherwise would affect the quality of the product. That said, there are certain concerns with this product. No manufacturer's guarantee is given. This health product is presented within a gelatin capsule. This product will therefore be unsuitable for any vegans, vegetarians, or those prohibited from consuming beef. Lastly, even though this product is sold at a discounted rate, the company does not offer any package deals which could offer the consumer more options and savings, especially if buying in bulk.
Well researched reviews, from the experts at Research & You.