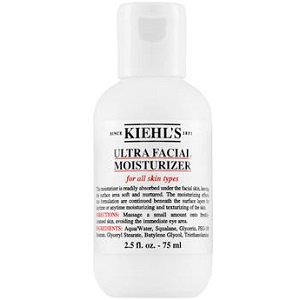 Kiehl's Ultra Facial Moisturizer - Does It Work?-Review
What is Kiehl's Ultra Facial Moisturizer?
Dry skin can really lead to discomfort throughout the day - for this reason, many people look for that perfect moisturizer that will help keep their skin glowingly hydrated. Our review will take a closer look at Kiehl's Ultra Facial Moisturizer, a product that promises to keep the skin moisturized all day long, while easily absorbing into the skin leaving it soft to the touch.
Ingredients & How It Works
While this product is made from approximately 20 active and inactive ingredients, the manufacturer has put emphasis on its two key substances that are said to be the driving force behind this formulation. First, let's take explore what Squalane is. Squalane is a component that is naturally found in the human skin but can also be derived from plant sources such as olives (which is where the Squalane in this product comes from). As a refined lipid, this ingredient has the ability to easily be absorbed by the skin increasing moisture - leaving the skin feeling soft and supple. The other key ingredient, found in this day cream, is Glycerin. Glycerin is a well-known and commonly used substance found in many skin care products. Referred to as a humectant that captures moisture and keeps the skin hydrated for longer periods of time.
We could find no proof that the ingredients in this product were clinically proven or cruelty-free.
Instructions
For best use, it is suggested that you should apply this daily moisturizer after washing your face and toning the skin. After these steps, take a small amount of the product and massage it into your skin in the morning or as needed. Prevent this day cream from coming into contact with your eyes.
The Cost
If you are interested in buying this moisturizer, you can do so on the manufacturer's website at an order price of $21 for 2.5 fl oz; $29 for 4.2 fl oz and $41 for an 8.4 fl oz bottle. Apart from these packages, no other evident discounts applied.
Guarantee
We were pleased to find a complete money back guarantee offered by the manufacturer. If you are not completely happy with your purchase you can return it provided that the product was bought directly from them and not a reseller.
Our Review Summary Of Kiehl's Ultra Facial Moisturizer
Wrapping up our review for Kiehl's Ultra Facial Moisturizer, we have to admit that we enjoyed that this product had a seemingly comprehensive and fair returns policy that has been put in place by the manufacturer. We also thought that the key ingredients had the potential to contribute to this product's effectiveness. Unfortunately, while this may be the case we were concerned that we did not find any mention of animal-friendly practices and that its long list of ingredients was chemically based and potentially damaging or counterproductive. This coupled with the fact that other similar products contain five or more clinically proven ingredients - has led us to the conclusion that there are better alternatives available. 
Well researched reviews, from the experts at Research & You.