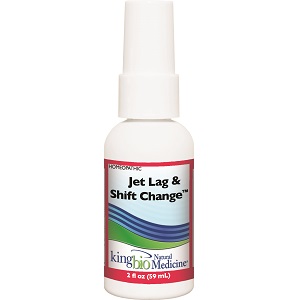 King Bio Jet Lag & Shift Change - Does It Work?-Review
What is King Bio Jet Lag & Shift Change?
This review will focus on a homeopathic product called King Bio Jet Lag & Shift Change. The aim of this product is to provide temporary relief from symptoms associated with jet lag and due to shift change. The symptoms the manufacturer claims to be able to help include irritability, sleeplessness, nervous tension, fatigue, drowsiness, and spasmodic yawning. Find out more about how King Bio Jet Lag & Shift Change works and what ingredients are used by reading our review below.
Ingredients & How It Works
Cocculus indicus
Colchicum autumnale
Gelsemium sempervirens
Juniperus communis
Kali carbonicum
Kali phosphoricum
Nux vomica
Passiflora incarnata
Phosphoricum acidum
Phosphorus
Bio-Energetically Enhanced pure water
Citric acid
Potassium sorbate
King Bio Jet Lag & Shift Change contains many ingredients that claim to provide relief from symptoms due to jet lag. However, not all combinations work. This product lacks L-ornithine which is essential in relieving stress and which helps improve sleep quality. Another concern we have is that the product lacks a dual-action solution that provides stress relief as well as allowing one to feel balanced upon arrival. It may not be as effective as other products that do contain these crucial properties.
Daily Serving
The user is provided with clear instructions on how to use the pump bottle. First, one must depress the pump until it is primed. Then, hold it close to the mouth and spray the product directly into the mouth. The product must be used 3 times a day and it may be used additionally as needed. Adult should use it 3 times a day, whilst children between the ages of 2 and 12 years only need to use it 2 times a day.
The Cost
King Bio Jet Lag & Shift Change can be purchased online from the manufacturer's website. A bottle of 2 fluid oz will cost you $19.99. The product can also be purchased from local retail stores. No discount or bulk packages are provided by the manufacturer.
Guarantee
A 30-day 100% money-back guarantee is offered by the manufacturer. This return policy does not provide customers with all the crucial information that is needed. There is no indication for the condition the product may be in upon returning it. First time customers will not know if they may use the product and then return it for a full refund if it does not work. Missing information, like this, may indicate that the product is not effective.
Our Review Summary Of King Bio Jet Lag & Shift Change
King Bio Jet Lag & Shift Change seems to be a promising product and there are a few things that we like about the product. The manufacturer has provided the customer with clear instructions on how to use it.
Unfortunately, there are many more things we do not like about the product. Firstly, it does not contain L-ornithine to relieve one's stress. Furthermore, it does not have a dual-action solution. Furthermore, the manufacturer offers a very weak guarantee. These reasons lead us to believe that King Bio Jet Lag & Shift Change is not an effective product. Customers are better off choosing an alternative product and one with a solid guarantee.
Well researched reviews, from the experts at Research & You.