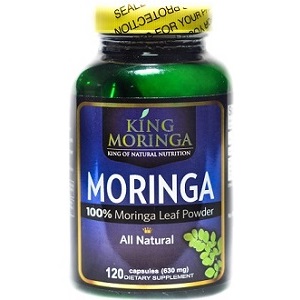 King Moringa Moringa - Does It Work?-Review
What Is King Moringa Moringa?
The following review is for a product called Moringa Capsules from King Moringa. According to the manufacturer, this herbal supplement will provide your body with a wide range of benefits. This herbal ingredient is usually harvested from the leaves or roots of the Moringa tree. It has been used in traditional medicine for centuries due to its wonderful properties. When you use this product, you may notice a reduction in your appetite, less constipation and stabilized blood sugar levels. Additionally, you will have improved mental functioning and greater energy levels.
Ingredients & How It Works
Moringa Oleifera Leaves
Vegetable Cellulose
Microcrystalline cellulose
Silicon Dioxide
When we first examined this list of ingredients, we were rather impressed. We believe that these ingredients could be very effective for providing you with a variety of health benefits. We were excited when we discovered that the only active ingredient in this formula is extracted from the leaves of this medicinal plant. However, we were concerned about the shocking amount of additional ingredients included in this formula.
Daily Serving
The manufacturers of this product recommend that you take four to ten capsules each day. Unfortunately, they do not state if you should be taking this in multiple doses across the course of the day. Additionally, we are not sure if this product is safe to take on an empty stomach.
The Cost
This weight loss supplement is available to buy for $30.00 on the manufacturer's online store. Unfortunately, we could not find any information on the online store regarding shipping fees and taxes. Therefore, you should bargain on adding these fees on to your total, which you will need to pay for this product. Additionally, we could not find any discounts or special offers for this product so you will have to pay the full price for this expensive supplement.
Guarantee
Sadly, we could not find any information on guarantees for this product. This indicates that the manufacturer is not entirely confident with their product. Companies who offer guarantees are sure that their products serve their intended use and are thus not afraid to refund people who are not entirely satisfied with their product.
Our Review Summary Of King Moringa Moringa
After we concluded our review of this product, we found that it could provide you with a wide variety of health benefits. These benefits include improved digestion, cognitive functioning, and energy levels. The only active ingredient in this dietary supplement comes from a medicinal plant. We were also impressed by the positive reviews that this product has received. The people who have used this dietary supplement believe that it is an effective option. However, we uncovered a number of things during our research, which raised doubts about this product. It contains a variety of additional ingredients that are unnecessary. Additionally, the manufacturer does not provide any guarantees to the customers who purchase this product. Finally, we found that this dietary supplement is rather expensive when compared to other similar products.
Well researched reviews, from the experts at Research & You.