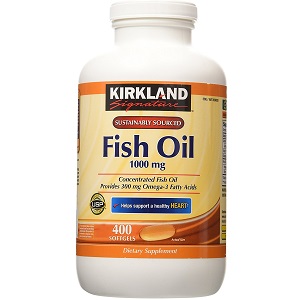 Kirkland Signature Fish Oil - Does It Work?-Review
What is Kirkland Signature Fish Oil 1000mg?
This Kirkland Signature Fish Oil review looks into the effectiveness of this product in improving cardiovascular health. The product is claimed to be a convenient and natural way of supporting the health of your heart. The manufacturer states that the fish oil is full of Omega-3 fatty acids, a useful substance for the health of your heart and blood vessels. Omega-3 is also helpful in promoting cell membrane health and flexibility. The manufacturer downplays fears of a possible mercury contamination by mentioning a state-of-the-art purification process that the product undergoes before being made available for consumption.
Ingredients & How It Works
Fish Oil Concentrate – 1000mg
Omega-3 Fatty Acids (EPA+DHA) – 250mg
Other Omega-3 Fatty Acids – 50mg
The main ingredient in Kirkland Signature Fish Oil is the fish oil concentrate which contains omega-3 fatty acids. The fatty acids are responsible for promoting healthy heart muscles and blood vessels. However, the levels of EPA and DHA are lower compared to other products. This product also combines their quantities while other products display their quantities separately so we don't really know how much of each is actually found in the product.
Daily Serving
Take one softgel twice daily with a full glass of water and preferably after meals. High doses may affect the optimal functioning of white blood cells; weakening your immune system. It may also lead to excessive bleeding. Fish oil may also cause bad breath and insomnia. You can avoid the undesirable reactions by talking to your healthcare provider before using the product. If you are pregnant, let your doctor advise you accordingly. If you experience any undesirable effects, discontinue use immediately.
The Cost
You can purchase a bottle of 400 softgels online for $11.49. Alternatively, you can choose to buy a smaller package containing 100 softgels for $2.87. If you purchase the product online, you can expect deliveries after 3 to 5 business days from the date of order. The very low price of the product may indicate the quality. Cheaper is not always better.
Guarantee
As the product is sold through various retailers, it is important to take note of their return policy. We were not able to find any information about a money-back guarantee offered by the manufacturer.
Our Review Summary Of Kirkland Signature Fish Oil 1000 mg
From the many customer reviews we found online, Kirkland Signature Fish Oil 1000 mg seems to be a useful product for boosting your cardiovascular and brain health. It is also very cheap compared to other products. However, cheap is not always a good thing. And this product seems to be lacking in potency. There are other products available that offer a higher concentration of fish oil and omega-3 fatty acids which may be more effective. The lack of a manufacturer's guarantee is also a major drawback. If the product does not work for you, you will have to rely on the return policy of the retailer where you buy the product, which generally doesn't allow you to return opened bottles.
Well researched reviews, from the experts at Research & You.