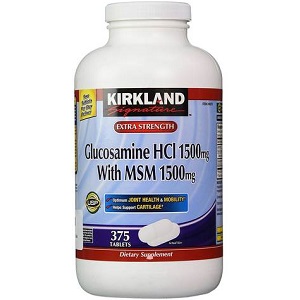 Kirkland Signature Glucosamine HCI - Does It Work?-Review
What is Kirkland Signature Glucosamine HCI 1500mg with MSM?
Read our review below about Glucosamine HCI 1500mg with MSM. This product is manufactured by Kirkland Signature. This supplement is claimed to support healthy cartilage as well as joints.
Ingredients & How It Works
Two capsules provide:
Glucosamine Hydrochloride (1500 mg)
Methylsulfonylmethane (MSM,1500 mg)
Other ingredients include: microcrystalline cellulose, hydroxypropyl methylcellulose. contains 2% or less of carnauba wax, croscarmellose sodium, crospovidone, magnesium stearate, polyethylene glycol, silica, stearic acid.
Glucosamine is a key element of cartilage and essential for the healthy structure and functioning of joints. This substance also assists with flexibility and mobility. MSM supports cartilage, minimizing joint discomfort. MSM, a bioavailable sulfur naturally found in the body, works together with glucosamine. This fosters the creation of collagen (the key to healthy connective tissue and healthy joints). Although this product is free from gluten, dairy and artificial flavors and colors, it does contain traces of shellfish.
Daily Serving
The manufacturer's dosage recommendation is to take two (2) capsules daily. Alternatively, follow the instruction of a doctor or health care provider. This dietary supplement product is not to be used by children. Pregnant women, nursing mothers, and anyone on prescription medication should first consult a doctor before using this product. The manufacturer of this supplement does not state whether this supplement should be taken in the morning, afternoon or in the evening, or whether the two capsules should be taken together, or at different times of day.
The Cost
A 375-capsule bottle is directly available on the manufacturer's own website, or from third-party sites. On the company's own website this product is available at $14.49. No discounts or package deals are offered. Any deliveries to Hawaii and Alaska attract an extra shipping and handling fee.
Guarantee
The manufacturer of this dietary supplement does state that dissatisfied buyers are entitled to a refund. However, this company fails to elaborate on the guarantee period, neither does it state whether there is a shipping and handling fee to be deducted from the refunded amount.
Our Review Summary Of Glucosamine HCI 1500mg with MSM
The dietary supplement Glucosamine HCI 1500mg with MSM has some obvious advantages. It comes with a manufacturer's guarantee. The manufacturer's website is clear, easy to navigate; and it contains sufficient information for consumers to make an informed choice on this product. However, there are certain problems. The manufacturer's guarantee is unclear: no mention is made of by which time a consumer must return the product before the right falls away. The manufacturer's dosage instructions are vague, therefore jeopardising the gaining of maximum health benefits. Also, the company offers no package deals with discounts which would have made this product economical in the long term. As such, and more so since there are so many other: better quality, better value, better guarantee, on the market currently it might be best to gauge what those can offer instead of this dietary supplement. This as a consumer should be getting the best supplement for their health.
Well researched reviews, from the experts at Research & You.