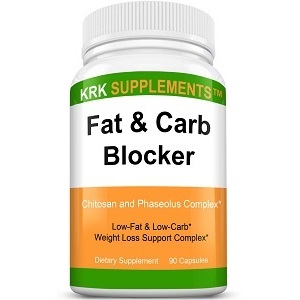 KRK Supplements Fat & Carb Blocker - Does It Work?-Review
What Is KRK Supplements Fat & Carb Blocker?
In this review, we will be examining a product from KRK Supplements called Fat & Carb Blocker. The ingredients included in this dietary supplement have been carefully researched to help you lose weight and burn fat. The main active ingredient in this supplement is white kidney bean extract, which prevents fat from being stored when you eat carbohydrates. Usually, your body will turn carbohydrates into sugars and then convert those sugars into fat. Additional bonuses associated with the use of this dietary supplement are decreased appetite, steadier blood glucose levels and increased metabolism and energy.
Ingredients & How It Works
Chromium Polynicotinate
Phaseolus vulgaris
Chitosan
guarana
coleus forskolii extract
gelatin
microcrystalline cellulose
Magnesium stearate
When we first examined the ingredients included in this formula, we were rather impressed with the combination of ingredients. However, we were concerned about a variety of things that came up during our research. There are more additives, preservatives, fillers, and binders included in this formula than we would expect in a product like this. These additional ingredients could make this product unsuitable for individuals who suffer from allergies. Additionally, we are worried that this product does not include many vital ingredients that would be beneficial in this formula.
Daily Serving
Sadly, the manufacturer of this product does not provide clear instructions for the use of this product. They only state that one serving is equal to one capsule. We do not feel like this is sufficient information for this product to be used safely. For example, some supplements may damage your digestive system if you take it on an empty stomach.
The Cost
This product is not available from the manufacturer on their online store. However, you will not be able to find this product in a variety of third-party stores. If you purchase this product from Amazon, you will only pay $12.77 for one bottle. You also receive a coupon for 20% off your first purchase. Additionally, if you join the store's subscription program you receive an additional 15% off your order.
Guarantee
Unfortunately, we were unable to find any information regarding a guarantee for this product. We feel that this is a large indication that the manufacturer does not trust their product. Companies who believe in the product they deliver are not afraid to assist customers who are not happy with their purchase.
Our Review Summary of Fat & Carb Blocker
When we completed our review for this product, we found that it could possibly be an effective solution for individuals who want to lose weight. This product is available for a good price and the manufacturer provides their customers with excellent discounts. However, we would be reluctant to recommend this product to anyone due to a few issues we uncovered during our research. We believe that this product contains an excessive amount of additional ingredients that are not necessary. Additionally, we believe that this dietary supplement does not contain several of the key ingredients that we expect in a product like this.
Well researched reviews, from the experts at Research & You.