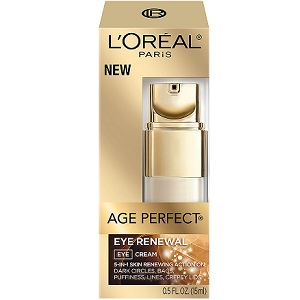 L'Oreal Paris Age Perfect Eye Renewal Eye Cream - Does It Work?-Review
What is L'Oréal Paris Age Perfect  Eye Renewal Eye Cream?
The skin around the eyes is one of the first areas to show signs of stress and age. It can easily become inflamed and puffy when we don't get enough sleep or are exposed to significant amount of environmental damages. These features can be corrected by applying the right eye cream. This product review will be focusing on L'Oréal Paris Age Perfect Eye Renewal Eye Cream, which is designed to correct and minimize the signs of aging and skin damage.
Ingredients & How It Works
Pro-cysteine
Apricot Kernel Oil
Shea Butter
Rosa Canina Fruit Oil
Tocopherol
The listed ingredients provide nutrients to the damaged skin cells on the eye contour to restore their health back to where should be. The various oils and butters help to lock moisture in the skin which plumps it up so that it does not sag. The tocopherol is designed to react with environmental chemicals so that they do not instead react with the skin cells and cause damage and inflammation which is the main facilitator of inflamed and puffy eyes. The main ingredient, pro-cysteine, helps skin cells in various ways, but the main rationale is probably that it helps to form strong chemical bonds between certain proteins in the skin cells which firms up the skin and makes it tighter which of course reduces the appearance of the various signs of stress and aging.
Instructions
This product is to be applied twice a day, once in the morning and once in the evening by using the fingertips and putting it gently into the eye area until it is completely absorbed. Although the manufacturer does not say it specifically, we recommend using a cleanser before applying this product so that it is absorbed better.
The Cost
L'Oréal Paris Age Perfect  Eye Renewal Eye Cream can be purchased online for 24.99. A container has 0.5 fl oz of the product inside. The price does not include shipping or taxes and there are no subscription service or general discounts. However the manufacturer does have a loyalty program, where customersmay receive various promotions from time to time.
Guarantee
There is neither a returns policy nor a guarantee for this product. This is fairly surprising given the status of this manufacturer. Although L'Oréal Paris is one of the leading skin care manufacturers, it actually pales in comparison to those which offer an extensive guarantee. A guarantee essentially proves that the manufacturer is confident that the product will work for the customer and in the case that it does not, the manufacturer is happy to accept responsibility. It is most unfortunate that this manufacturer does not share this confidence in their product.
Our Review Summary Of L'Oréal Paris Age Perfect  Eye Renewal Eye Cream
Interestingly, there's nothing majorly impressive about this product. It has the necessary features such as relevant ingredients and clear instructions, but there are just products with better features than this one. Some manufacturers provide discounts and subscription services that make it more convenient and more affordable for customers to use the product. Many of the same manufacturers offer a guarantee on a product. Even the ingredients of this product are less impressive than the ingredients of others. 
Well researched reviews, from the experts at Research & You.