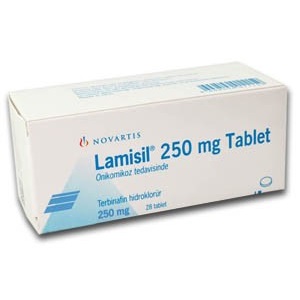 LAMISIL - Does It Work?-Review
What Are LAMISIL Tablets?
LAMISIL Tablets is a prescription medication which, according to the maker, is designed to clear up fungal infections in both fingernails and toenails. It treats fungal infections by stopping the growth of fungus and encouraging the growth of healthy and clear nails. However, LAMISIL does take a few weeks to start producing results. Is this an options you should discuss with your physician for treatment of your fungal infection? Read our review below and find out.
Ingredients & How It Works
LAMISIL has one active ingredient: terbinafine hydrochloride. Terbinafine hydrochloride is used to treat fungal infections. The way it works is by preventing continued fungal growth, and preventing future fungal growth. It does not clear up the fungal infection quickly, but instead encourages the growth of healthy and clear nails. While it takes time, terbinafine hydrochloride helps to completely clear up fungal infections.
LAMISIL contains the following inactive ingredients:
Colloidal Silicon Dioxide
Hydroxypropyl Methylcellulose
Magnesium Stearate
Microcrystalline Cellulose
Sodium Starch GlycolateIS
Daily Serving
The daily serving depends on a doctor's recommendation. Typically, LAMISIL is taken once a day for 6 weeks for fingernail infections and once a day for 12 weeks for toenail infections. The tablets do not need to be taken with food. Doses should not be skipped, as it could affect the results. Do not take more than the recommended dose.
There are some possible concerns about LAMISIL. Taking more than the recommended dose can cause:
Nausea
Abdominal pain
Frequent urination
Rash
Headache
Vomiting
Dizziness
LAMISIL tablets can also cause sensitivity to the sun. Avoid tanning and sunburn. Other possible severe side effects include:
Loss of taste, smell and appetite
Depression or anxiety
Blood clotting
Low white blood cell count
Weight loss
Allergic reactions
The Cost
Since LAMISIL is a prescription medication, we were unable to find a definitive cost for this product. Online sources put the cost at anywhere between $30 (for generic versions) to $4200 for brand name Lamisil, for a month's worth. Since LAMISIL is prescription medication, there is a chance medical insurance will cover some of the cost. This is not a guarantee though.
Guarantee
We found no information regarding a guarantee. Since this product is available through prescription only and comes doctor recommended, most likely there is no guarantee or refunds for it. Customers should consult their doctor about any questions or concerns.
Our Review Summary of LAMISIL Tablets
LAMISIL Tablets seems to be a decent fungus treatment. Since it is a prescription method, it is possible it may be more effective than over-the-counter treatments. There is also a decent amount of information regarding LAMISIL, including the results of clinical studies. Unfortunately, not all the information about LAMISIL is positive. It can cause a wide range of side effects, some of them more serious than others. However, the dosage amount is not large and does not need to be taken with food water.
There are a few other things to keep in mind before asking a doctor about LAMISIL. Since this product is not an over-the-counter medicine there are no customer reviews. Therefore, we are unsure how other users have reacted to this product, or if it consistently works. There also is no guarantee and we are unable to pin down the cost is. Therefore, it is possible users will pay for LAMISIL and not see results.
Well researched reviews, from the experts at Research & You.