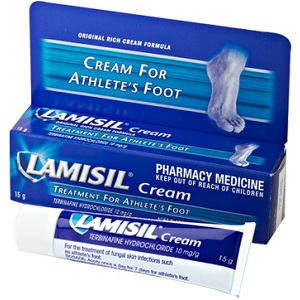 Lamisil Antifungal Cream - Does It Work?-Review
What is Lamisil Antifungal Cream?
This review is for a product called Lamisil AT Antifungal cream, which is designed to provide relief from infections such as ringworm, athlete's foot, and jock itch. The manufacturer claims that Lamisil Cream works as a relief from the burning sensation, itching, scaling and cracking caused by these infections. The manufacturer promises that you will see results within seven days when using this cream for relief from athlete's foot. There is no mention of the period that it will take to relieve ringworm.
Ingredients & How It Works
Terbinafine Hydrochloride is the only active ingredient in the product. This ingredient works by killing the fungi that is responsible for the infection. It does this by causing holes to open in the fungal cell membranes. The fungi cannot survive in the cell membrane with holes, hence it dies then the infection clears up.
Even though this could be an effective Terbinafine Hydrochloride, it is concerning that it is a chemical and that there is no natural ingredient with moisturizing and soothing properties added. Natural oils like Tea Tree Oil and Olive Oil are known to be effective in fighting infections like athlete's foot, ringworm and jock itch. The lack of such ingredient/s might modify the effectiveness of this product.
The inactive ingredients are Benzyl Alcohol, Purified Water, Sorbitan Monostearate, Stearyl Alcohol, and Polysorbate 60, Cetyl Palmitate, Isopropyl Myristate, and Sodium Hydroxide,
Daily Serving
Carefully wash and dry the affected area with soap and water. Ensure it is completely dry before you apply the cream.
The recommended application of Lamisil Antifungal Cream is once a day to provide relief from ringworm and jock itch, and twice a day for relief from athlete's foot. This should be done everyday for seven days for you to see results.
We are concerned that twice a day is not enough for this product to work. Since it does not have any moisturizing properties, the product might dissolve and leave the skin dry, which might worsen the itchiness and therefore not providing the relief needed. Antifungal products should be applied at least three times a day for effective outcome.
The Cost
Lamisil Cream is available online and over the counter through third-party retailers. It comes in two sizes, a 12g and 30g tube. 12g costs between $8.94 and $11.49, while 30g costs between   $13.94 and $18.99. Some of the retailers offer discounts, however the duration of the special is not indicated. There are coupons available from the manufacturer's website, which offers you a $2.00 discount. You need to print the coupon for you to be able to use. This means that it is only useful for over the counter purchase, and not when you purchase online.
Guarantee
We tried to find information about the manufacturer's guarantee. However we were unsuccessful. The manufacturer seems not to have a guarantee on this product. If consumers buy Lamisil Cream, they are running the risk of losing money and they will be compromising their safety and health.
Our Review Summary of Lamisil Antifungal Cream
Lamisil Antifungal Cream could provide solution against athlete's foot, ringworm and jock itch, however it is chemical-based. The downside about chemical-based products is that they might irritate your skin, causing more problems. It is always advised to consult with a medical practitioner before using Lamisil. It would have been good to include natural ingredient to make it more effective and safe to use.
The manufacturer states that Lamisil will give you relief from athlete's foot within seven days. However they do not mention how long it would take to see results when wanting to get relief from ringworm and jock itch. This could mean that this product might only work with athlete's foot.
It is hard to trust this product, considering that it has many downsides, and the fact that it is not backed by the manufacturer's guarantee. Consumers must consider a product that has a money-back guarantee, and one that contains natural ingredients to cover themselves.
Well researched reviews, from the experts at Research & You.