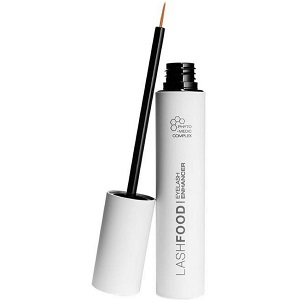 LashFood Phyto-Medic Eyelash Enhancing Serum - Does It Work?-Review
What is LashFood Phyto-Medic Eyelash Enhancing Serum?
The product Phyto-Medic Eyelash Enhancing Serum will be examined in this review. This serum is manufactured by LashFood. It is claimed to nourish eyelashes so that they appear thicker, longer, and stronger. Continue reading this review for more about this eyelash serum.
Ingredients & How It Works
Phyto-Medic Complex
Paeonia albiflora root extract
Panax ginseng root extract
Aloe barbadensis leaf juice
Hydrolyzed rice protein
Portulaca oleracea extract
Prunus mume fruit extract
Phyto-Medic Complex: (paeonia albiflora root extract, panax ginseng root extract, aloe barbadensis leaf juice, hydrolyzed rice protein, portulaca oleracea extract, prunus mume fruit extract) these are herbal extracts which prevent hair loss while stimulating regrowth of lashes.
Other Ingredients: Arginine, lavender water, soy protein, coconut fruit juice, bergamot peel water, citrus orange fruit water, butylene glycol, xanthan gum, phenethyl alcohol, sorbic acid, hydrogenated phosphatidylcholine, potassium sorbate, adenosine, lecithin, trehalose, and water.
The substance arginine, an essential amino acid, promotes hair growth. Lavender water prevents alopecia. Soy protein not only strengthens the lashes but also soothes and conditions them. Coconut fruit juice helps to tame frizzy hair, minimizing hair fall, and treating dandruff in addition to dry scalp. However, this product lacks at least five patented clinically proven ingredients, for instance, anagain, pentavitin, widelash, fision keraveg18, regu-fade, and the active ingredients should comprise at least 10% of the formula. However, this product does not incorporate as many, only offering one patented ingredient: Phyto-Medic Complex. This serum is vegan-friendly. In addition, this product is certified natural and organic, gluten-free, irritation-free, paraben and sulfate-free, as well as phthalates-free.
Instructions
The manufacturer of this product recommends that this product be applied every night after cleaning and drying the area. The applicator brush should be used to apply the serum to the lashes. Before applying any other product, the serum should dry completely.
The Cost
The serum is available directly from the manufacturer of this product, but also from third-party sites. 3 ml costs $80.00. There is a 10% discount on first-time consumers that subscribe to the company mailing list. However, the manufacturer of this product offers no package deals with discounts.
Guarantee
Despite our research efforts, no guarantee was found to back this product. This is a concern: it may mean that there are some concerns about the effectiveness of the product. There are only a few customer reviews, therefore these are insufficient to provide a proper gauge of the effectiveness of this serum.
Our Review Summary Of Phyto-Medic Eyelash Enhancing Serum
There are certain positives with this product, such as its being all-natural, gluten-free, irritation-free, paraben and sulfate-free, as well as phthalates-free. A 10% discount is offered those who subscribe for the first time to the newsletter. However, there are also some negative aspects to this product. These include the lack of a firm guarantee to protect the consumer, and package deals that would save and reward loyal clients. Also, this product only contains one patented clinically proven ingredient and not the recommended minimum of five such ingredients.
Well researched reviews, from the experts at Research & You.