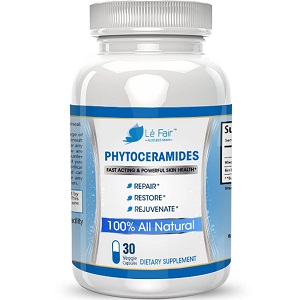 Le Fair Phytoceramides - Does It Work?-Review
What is Lé Fair Phytoceramides?
This is a review of Lé Fair Phytoceramides, a natural supplement made from herbal extracts. It is designed to restore and replenish skin ceramides to bring more moisture to your skin, as well as improve the elasticity and structural integrity of your skin.
Ingredients & How It Works
Primary Ingredients
Wheat Germ Oil - 500mg

Rice Bran Oil - 200 mg
Secondary Ingredients
Silicon Dioxide

Vegetable Cellulose
The ingredient list is curiously lacking Vitamin A, C, and E which have been shown to fight the signs of aging and repair skin damage.  But moreover, the ingredient list is not 100% wheat germ oil with the recommended number of phytoceramides at 350 mg a day.  The combined number of ceramides between the wheat germ oil and rice bran oil appears to be 700 mg, although admittedly the label is just not clear. We end up being concerned about the relationship between this product's dosage and the overall recommended dosage for optimum usage of phytoceramides.
Daily Serving
Instructions state to take one capsule a day with a meal.  Individuals under the age of 18 should not use this product and the warning label states not to exceed the recommended serving.  Those who are taking other medication/supplements or have any other medical conditions are advised to consult with their physician before using this product.  And if adverse reactions occur, use should be discontinued.
The Cost
The manufacturer offers this product for $11.90 at a discounted rate from the original price which is $69.99.  The cost differential is large.  They offer free shipping on all orders in the US and to the UK.  International shipping is available to 26 other countries only.
Third-party websites sell the bottle for $13.90, and there are discounts for buying in bulk:  a 5% discount for purchasing two bottles; a 10% discount for purchasing 4 bottles, and a 15% discount for purchasing 6 bottles.
Guarantee
On third-party websites, the manufacturer offers a 100% lifetime, risk-free money back guarantee in the form of a certificate that makes it appear as if this is a real offer.  However, on the manufacturer's website, the guarantee is stated completely differently.  It says that there is a 30-day satisfaction guarantee from the day it was shipped to you. The fact that differing and competing guarantees are offered at once makes us feel very leery of trusting the information presented on the websites.
Our Review Summary Of Lé Fair Phytoceramides
Improving skin hydration to prevent signs of premature aging, while increasing the elasticity in your skin, this US-made supplement increases skin moisturization, reduces wrinkles and fine lines, and increases skin elasticity and firmness.
Reviews of customers' usage of the supplement were a mixed bag.  Many complained about the large size of the capsule and the difficulty they had in swallowing it. Others shared having had a huge allergic reaction to the pill or feel nauseated or complaining of migraines. In all, we were concerned with there being too many question marks about Lé Fair Phytoceramides: how many mg of ceramides are there and is the dosage correct; what is the satisfaction guarantee that the manufacturer really offers given the two different ones stated on websites?  It was enough to point us in a different direction to products with clear ingredient lists and customers who are overwhelmingly positive about a product that they can clearly standby.
Well researched reviews, from the experts at Research & You.