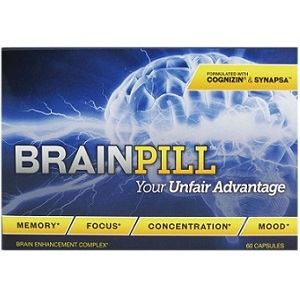 Leading Health Brain Pill - Does It Work?-Review
What is Leading Health Brain Pill?
This is our review for a product called Brain Pill. Brain Pill is a cognitive enhancing nootropic supplement that is specially formulated for people who want to achieve their maximum potential. The manufacturer claims that the product uses a variety of nootropics to improve your brain functioning by improving alpha brain wave frequency and nourishing the main neurotransmitters.
Ingredients & How It Works
This is a list of the ingredients contained in the product:
Folic Acid
• Pantothenic Acid
• Phosphatidylserine
• L-Theanine
• Tyrosine
• Pantothenic Acid
• DHA Complex
• Vitamin B6
• Vitamin B12
• Huperzine A
• Vinpocetine
• Gingko Biloba
• Bacopa monnieri – Synaps
• Citicoline- Cognizin
These ingredients supplement each other in giving you the benefits that you are looking for. They are scientifically documented to have the best effect on the brain health.
Daily Serving
We could not find any information about the dosage of this product. This is concerning because you cannot use a product without the instructions. Customers who buy Brain Pill might end up not being able to use it due the lack of instructions that could compromise their health. You might need to contact the manufacturer to find out the correct dosage if you end up buying this product.
The Cost
Brain Pill is sold online by the manufacturer and third-party retailers. A container with 60 capsules costs  $79.99. You can also buy two boxes for $149.99, three boxes for $219.99, four boxes for $289.99, five boxes for $359.99 and six boxes for $399.99.  The cost for shipping outside USA is $29.99, while it is free of charge within the US if you purchase three boxes or more.
Guarantee
The manufacturer offers its customers a 67-day money back guarantee. If for any reason you are not satisfied with Brain Pill, you can return the product or empty containers within 67 days from the delivery date for a full refund, except for shipping costs. This means that it is not wise to buy more than one bottle incase you are unsatisfied, because each bottle contains 60 capsules, which you will use within the guarantee period. Any extra bottles fall outside the manufacturer's guarantee period. 
Our Review Summary Of Leading Health Brain Pill
Leading Health Brain Pill seem to have the right ingredients to promote brain functioning, concentration and memory. Even though the product's price is high, the manufacturer provides you with discounts when buying packages.This might be a good thing for people who are already using the product but not for those who are trying it for the first time. It would not be wise to be attracted by discounts and end up buying too much of something that might not work. It is better to look for something that is less expensive. There are plenty of products in the market that you can choose from.
The manufacturer also does not share any information about the dosage, which makes it unsafe. This is a very important information that could cost a customer their health or life if they overdose. It is better to stay away from Brain Pill and look for something else that does not lack this information.
Well researched reviews, from the experts at Research & You.