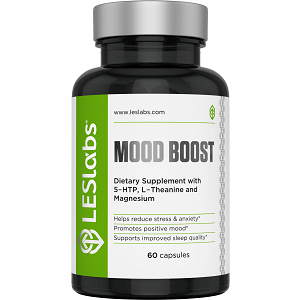 LES Labs Mood Boost - Does It Work?-Review
What is LES Labs' Mood Boost?
This review focuses on the supplement Mood Boost. The manufacturer of this supplement claims that this product is a natural product to: 1)  provide anxiety and stress relief, 2) encourage a positive mood, 3) promote healthy sleeping patterns, and 4) improve your focus.
Ingredients and How It Works
5-Hydroxy L-Tryptophan (100 mg) – A precursor to serotonin, this neurotransmitter can elevate your mood and provide relief from anxiety and stress.
L-Tyrosine (200 mg) – This amino acid assists in reducing stress and anxiety, especially after long periods of strain and lack of sleep.
L-Theanine – (50 mg) - This amino acid, also found in tea, can reduce physical and mental stress and boost your mood. In addition, this substance has been shown to promote concentration and attention.
Passion Flower – This substance can minimize anxiety and nervousness, while promoting better sleep.
Ashwagandha – This adaptogen promotes overall quality of life, more so mental health and managing of anxiety levels.
Other ingredients: Vitamin B6 (as Pyridoxine HCl), Magnesium (as magnesium citrate), GABA (Gamma aminobutyric acid), Rhodiola root extract (min. 3% Rosavins and 1% Salidrosides), Chamomile flower extract, Lemon balm herb extract, Vegetarian capsule (Hypromellose), Organic rice bran powder.
Rice bran powder is just a filler. This formula is gluten, soy and dairy free, and suitable for vegans.
Daily Serving
The recommendation is to take 1 capsule daily, however, you can take up to 2 a day. Alternatively, follow instructions from your doctor.
The Cost
A 60-capsule bottle of Mood Boost is available online at $29.99 on a one-time purchase option. If you choose to be locked in and subscribe, a 5% discount applies to purchase of 5 products. No other discounts are available.
Guarantee
The manufacturer offers a 60-day money-back guarantee, effective from the date of purchase. However, this refund is only applicable on bottles that have not been opened. No refund applies to opened bottles. Shipping costs are for the customer's account. In addition, for each returned item a $5.00 restock fee is charged. Bulk or wholesale orders are not covered by a refund.
Our Review Summary of Mood Boost
Packed with natural ingredients, Mood Boost offers a solution for managing stress and anxiety. In addition, this product contains ingredients to boost your mood. Also, this product is gluten, dairy, and soy free, and is suitable for vegans. However, there are no discounts on bulk orders whereby consumers can save money. Furthermore, there is no differentiating of treatment applicable to day or night-time. Finally, the return policy of this company does not allow for a free trial as bottles must be returned unused. For each return, $5.00 is deducted from the refund amount. With so many other similar treatments on the market, it may be better to select a dietary supplement that is more aligned with the needs of a customer, also offering excellent ingredients.
Well researched reviews, from the experts at Research & You.