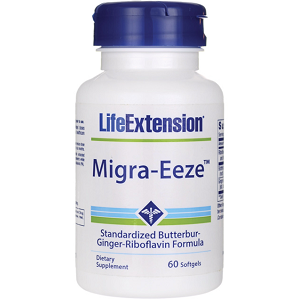 Life Extension Migra-Eeze Standardized Butterbur-Ginger- Riboflavin Formula - Does It Work?-Review
What is Life Extension's Migra-Eeze Standardized Butterbur-Ginger- Riboflavin Formula?
What is to follow is a review of the product Migra-Eeze Standardized Butterbur-Ginger- Riboflavin Formula, by Life Extension. This product is a natural treatment for migraines, headaches, and other head pain. The main ingredient is the herb butterbur, which has been found to reduce headaches by 61%.
Ingredients & How It Works
Riboflavin (Vitamin B2, as Riboflavin and Riboflavin 5 phosphate 400 mg) – helps by reducing headaches.
Butterbur Co2 extract root (standardized to 15% petasins (22.5 mg) 150 mg) – petasins in butterbur ensure an even flow of blood to the cerebral blood vessels.
Butterbur can prevent arteries from becoming constricted. Ginger Extract Root (standardized to 5% gingerol (12.5 mg), 250 mg) – helps with reducing headaches.
Other ingredients: sunflower oil, gelatin, sorbitol, glycerin, beeswax, purified water, carob, lecithin. Contains soybeans. This product contains soy which could lead to an allergic reaction in some. It also contains gelatin, which makes it unsuitable for vegans and vegetarians.
Dosage
The recommended dose, according to the manufacturers, is 1 capsule twice a day, without or with food. The manufacturers recommend that the capsules be taken for 4 to 6 months, thereafter reducing or stopping usage to avoid reduction of benefits. The treatment may thereafter be resumed for a further 6 months. There is a warning: one should not exceed the suggested dose. Pregnant women should consult a doctor before taking these capsules.
The Cost
A bottle of Migra-Eeze, costs $24.75 for 60 capsules. The product may be bought directly online from the company, or from third-party sites. However, the company does offer 2 different package deals, offering discounts on purchase as the number of bottles increases. For instance, the second deal offers 4 bottles at $22 per bottle.
Guarantee
The manufacturer does offer a money-back guarantee. Products bought may be returned within 3 months of purchase, whether or not opened and used.
Our Review Summary Of Migra-Eeze Standardized Butterbur-Ginger-Riboflavin Formula
The overall reviews on this product, Migra-Eeze Standardized Butterbur-Ginger-Riboflavin Formula, seem positive. There are minimal complaints about side effects. The manufacturers offer a discounted rate when purchasing 4 bottles at once.  What is a red flag is that the product does not come with a manufacturer's guarantee. If the product does not work as well for you as for others, or if it has side effects, you have no guarantee to turn to. Furthermore, as the capsules are made with gelatin as well as soy, those with dietary restrictions, such as vegans and vegetarians, will find this product unsuitable, as will those allergic to soy. There are many alternative supplements on the market which do not have these limitations.
Well researched reviews, from the experts at Research & You.