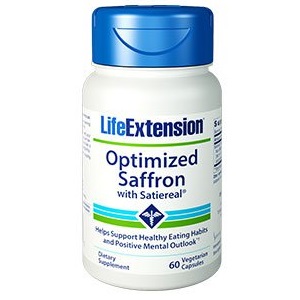 Life Extension Optimized Saffron with Satiereal - Does It Work?-Review
What is Life Extension Optimized Saffron with Satiereal?
This is our review of Life Extension Optimized Saffron with Satiereal.
Optimized Saffron with Satiereal is designed to help individuals who want to have a healthy body weight. This product works by targeting some of the factors that increase regular food cravings, which helps you resist eating between meals and after hours. This in turn supports a reasonable weight loss, improves mood and reduces stress. The manufacturer claims that clinical studies with women taking Satiereal showed that they experienced less hunger, more energy, complete reduction of yearning to snack, and moderate weight loss. It is suggested that this product is more effective when combined with a healthy diet and routine exercise.
Ingredients & How It Works
The main ingredient of this product is Satiereal saffron extract (stigma).
Satiereal is a unique production of saffron made from Inoreal, and it is used in most leading dietary supplements, dietetic food and weight management products on the market nowadays. This natural ingredient has an ability to curb your carbohydrates cravings and sends signals to the brain the same way that carbohydrates do, but unlike carbohydrates it does this without calories. Unfortunately, we doubt that this saffron will have an effect on your body because it is only 88g per capsule. Effective saffron products usually contain 400g of saffron in a capsule.

Other ingredients are Acacia Gum, Silica, Vegetable Cellulose, and Microcrystalline Cellulose.
Daily Serving
The recommended dosage for Optimized Saffron is one capsule in the morning and one in the evening everyday, taken with food or as directed by a healthcare practitioner.
If you are pregnant, breastfeeding or have an existing medical condition, you are advised to consult with your healthcare practitioner before taking this supplement.
The Cost
Life Extension Optimized Saffron costs between $27.00 and $36.00 for a bottle of 60 capsules, from various online retailers. Bulk purchasing discounts are available from some retailers and prices vary according to each retailer.  
Guarantee
We could not find any information relating to the manufacturer's guarantee on the product, which could mean that they do not have it. The lack of guarantee gives an impression that the manufacturer is not confident with the effectiveness of the product, which then mean that the customers who buy this product are at risk.
Our Review Summary of Life Extension Optimized Saffron with Satiereal
Satiereal is known to be an effective ingredient for weight loss due to its ability to suppress appetite for snacking unnecessarily during odd times of the day. The manufacturer did not give this product a fair chance because it only contains 88g of saffron per capsule, while effective saffron products on the market usually contain 400g. We feel that this amount will not be enough to be effective.
We also believe that this product is expensive, especially because it contains little amount of saffron, and more especially because other saffron products in the market cost less.
We were concerned to find out that there is no money back or any kind of guarantee for this product, as it suggests that the manufacturer is not 100% sure about its effectiveness. Therefore, it is advisable to choose a product that costs less and one that is backed by the manufacturer's guarantee. The guarantee will give you confidence on the product, and a chance to return it if you are unsatisfied with the results.
Well researched reviews, from the experts at Research & You.