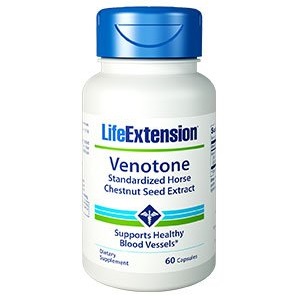 Life Extension Venotone Standardized Horse Chestnut Seed Extract - Does It Work?-Review
What is Venotone Standardized Horse Chestnut Seed Extract?
It is claimed by the makers of Venotone Standardized Horse Chestnut Seed Extract that this treatment is good to support healthy blood vessels, as result, will assist to improve varicose veins. Furthermore, the manufacturer claims that this dietary supplement is a good antioxidant. What is to follow is a review on this product.
Ingredients & How It Works
The formula of this supplement is that 1 capsule holds the following ingredients:
Horse Chestnut seed extract (250 mg) – This element is acknowledged to be support veins and diminish the pain linked with varicose veins. This is since this ingredient has anti-inflammatory, anti-oxidant, anti-edema, venotonic, and vasoprotective effects on the veins.
Other ingredients in this formula: microcrystalline cellulose, gelatin, maltodextrin, silica, vegetable stearate, hydroxypropyl methylcellulose. An issue with the non-active ingredients are that one – gelatin, is not suitable for vegans or vegetarians.
Daily Serving
The maker of this dietary supplement recommends that 1 capsule should be taken every 12 hours or as instructed by your healthcare provider. Although it should be said that the manufacturer do not specify if the capsules should be taken with or without food or drink for optimum results.
The Cost
The company that makes this dietary supplement indicates that the retail price should be $37.90 but on their own website, it is obtainable for $27.99 for a twin pack (two bottles of 60 capsules each) on the maker's own site. Still, no discounts are offered. In addition, free shipping is only applicable on orders over $50.00 and restricted to continental America.
Guarantee
Only unopened bottles can be returned, within 30 days of procurement for a full refund. This denotes that no free trial is permitted.
Our Review Summary Of Venotone Standardized Horse Chestnut Seed Extract
This product appears to be a useful supplement for the treatment of varicose veins and spider veins. Venotone Standardized Horse Chestnut Seed Extract has a formula that contain ingredients that are recognized to be effective at treating veins and making sure the veins are kept healthy. In addition to that, if you buy a twin pack on the maker's website you can save money as it's cheaper than other places, and you can receive a voucher. However, the buyer reviews on this dietary supplement are disconcerting. This, with even though the reviews are enormously inadequate, our research found that those are 66.70% low value and encompasses a number of unreliable reviews. As it happens, our research found that only 33.3% of the reviews were trustworthy. Furthermore, this dietary supplement is not fit for vegans or vegetarians, since the inclusion of gelatin. In addition, the manufacturer offers no free trial on this product, this as the item should be returned unopened to qualify for a refund. Additionally, we should also mention that this formula doesn't contain ingredients such as Hesperidin and Diosmin, Rutin, Butcher's Broom, and Cayenne pepper. These elements are respected for being good astringent, anti-inflammatory, antioxidant and antiseptic compounds. With that, there are better products, with guarantees on the market currently, instead of this dietary supplement.
Well researched reviews, from the experts at Research & You.